Print
League News and Events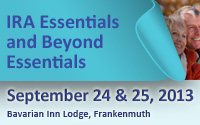 ... IRA Essentials and Beyond Essentials is taking place at the Bavarian Inn Lodge in Frankenmuth on Sept. 24-25. Seats are filling up fast for the popular training, which is priced at just $199 per person, per day. For complete details or to sign up online, click here.
... Dealing with Employee Leaves of Absence, Medical or Otherwise is the topic of an Aug. 20 audit session being facilitated by the Illinois CU League from 11 a.m. to noon. This session will address how to treat employee time off, address excessive absences and handle employees who may abuse time off policies. Participants will receive sample policies, forms and disciplinary documents that address excessive time off. Additional information and online registration for the session may be found here.

... The MCUL & Affiliates Telephone Collection School will provide great tips on how to make the most of collecting past due accounts and assisting members with staying current, in an effort to minimize charge-offs. Being held at the Somerset Inn in Troy, well-known speaker Steve Peterson returns by popular request on Nov. 7 to facilitate the training. More information and registration is available here.
Submissions to Monitor should follow the
submission guidelines
and may be
emailed
. Shawn Glinis is the editor of Monitor and can be reached at 800-262-6285, ext. 449. The newsletter of the Michigan Credit Union League is published Monday mornings or Tuesday mornings when Monday is a holiday. There is no Monitor the week after Christmas and the week after the Annual Convention and Exposition. MCUL reserves the right to edit submissions for clarity and space.