Print
2013 Michigan Jump$tart Educator Conference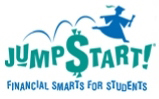 Registration is now open for the ninth-annual Michigan Jump$tart Educator Conference, which will be in Detroit on Dec. 11. This informative one-day event is for all educators – from those who are new to those who are highly experienced at teaching personal finance topics in the classroom. The agenda is designed to sharpen attendees' personal finance skills and bring them up to date on curricula changes.
Credit unions are encouraged to invite teachers from their communities to attend this conference and credit union financial educators are welcome to attend. The Michigan Jump$tart Coalition's aim is to increase the prominence of personal financial literacy in children and youth (grades K-12) and to promote the teaching of personal finance. Click here to download the event agenda for details and to register.

Submissions to Monitor should follow the
submission guidelines
and may be
emailed
. Shawn Glinis is the editor of Monitor and can be reached at 800-262-6285, ext. 449. The newsletter of the Michigan Credit Union League is published Monday mornings or Tuesday mornings when Monday is a holiday. There is no Monitor the week after Christmas and the week after the Annual Convention and Exposition. MCUL reserves the right to edit submissions for clarity and space.