Print
Metsger to be sworn in on Aug. 23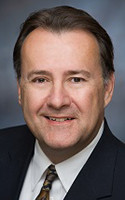 Metsger
Richard Metsger will be sworn in to the NCUA on Friday, Aug. 23 in a private ceremony. Metsger selected David Sheltner, currently the director of the Office of National Examinations and Supervision to serve as his interim senior policy advisor until a permanent candidate is selected. Metsger's term will expire on Aug. 2, 2017.

Submissions to Monitor should follow the
submission guidelines
and may be
emailed
. Shawn Glinis is the editor of Monitor and can be reached at 800-262-6285, ext. 449. The newsletter of the Michigan Credit Union League is published Monday mornings or Tuesday mornings when Monday is a holiday. There is no Monitor the week after Christmas and the week after the Annual Convention and Exposition. MCUL reserves the right to edit submissions for clarity and space.