Print
Make your CU Lunch Local Reservation Now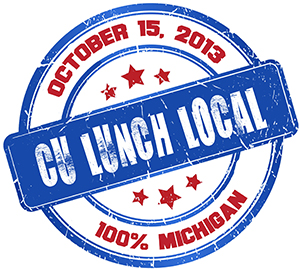 The big day is now less than one month away and the clock is ticking for your credit union to let us know your CU Lunch Local plans. The second annual statewide credit union "cash mob" will take place on Tuesday, Oct. 15, and organizers want to know if you're on board ASAP.
Last year's event made big waves in the media, and in order to build on that buzz and further elevate the credit union difference, it's critical that you register your plans to participate in CU Lunch Local. Participation is simple: Your credit union simply needs to commit to buying local on Oct. 15. Some credit unions plan to order pizza for staff from a local restaurant. Others will stock the lobby with locally made treats or provide a small Michigan-made gift to members who visit a branch that day.
MCUL will once again put together localized press releases to send to media markets across the state with details about participating credit unions and businesses, so the more details you can provide, the better for your credit union and the entire Michigan credit union community. The deadline to submit your plans is Oct. 8.
Start by registering on the official event Facebook page and then email your specific plans to participate to jessica@in-fusiongroup.com. Use the Facebook page to share photos and stories from the event and use the hashtag #culunchlocal on Twitter.
Submissions to Monitor should follow the
submission guidelines
and may be
emailed
. Shawn Glinis is the editor of Monitor and can be reached at 800-262-6285, ext. 449. The newsletter of the Michigan Credit Union League is published Monday mornings or Tuesday mornings when Monday is a holiday. There is no Monitor the week after Christmas and the week after the Annual Convention and Exposition. MCUL reserves the right to edit submissions for clarity and space.