Print
Maxwell, Herring, and Desjardins Awards Success; Judging Under Way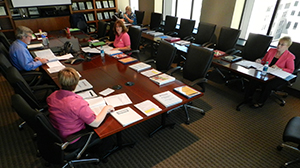 Judges look over entries for the 2013 Dora Maxwell, Louise Herring and Alphonse Desjardins awards at the MCUL & Affiliates offices in Lansing.
MCUL & Affiliates would like to thank all those credit unions that submitted entries for the 2013 Dora Maxwell, Louise Herring, and Alphonse Desjardins awards. This year a record number of entries came in, making for a long but rewarding day for the state-level judges.
The team of judges, all members of the MCUL CRI/Awards Committee, volunteered their time to read through and score the entries. Those entries selected as first place winners will be sent to CUNA to be judged against first place state-level entries from across the country. CUNA's judges then select the national winners who will be honored at a special ceremony at the CUNA GAC in Washington next February.
Look for an announcement of the state level winners in Monitor and on www.mcul.org in early fall. National winners will be announced later in the year.
MCUL & Affiliates will recognize all the state-level winners at the 2014 AC&E in Grand Rapids.
Submissions to Monitor should follow the
submission guidelines
and may be
emailed
. Shawn Glinis is the editor of Monitor and can be reached at 800-262-6285, ext. 449. The newsletter of the Michigan Credit Union League is published Monday mornings or Tuesday mornings when Monday is a holiday. There is no Monitor the week after Christmas and the week after the Annual Convention and Exposition. MCUL reserves the right to edit submissions for clarity and space.