Print
MSUFCU startUP Loan Helps Food Court Wars Winner Open Doors in Lansing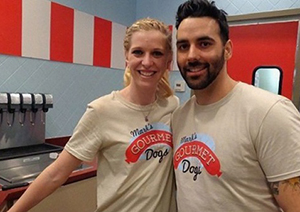 Krysta and Mark McGee, won the Food Network series "Food Court Wars" for their business, Mark's Gourmet Dogs.
Lansing entrepreneurs Mark and Krysta McGee of Mark's Gourmet Dogs, recipient of MSFUCU's startUP loan, were selected as winners on the Food Network series "Food Court Wars."
The pair competed on the show to win a food court space for a year at the Lansing Mall, beating out Grand Grillin for the top prize. Working with the Small Business Development Center at Lansing Community College, the pair created a business plan. With the help of MSUFCU and the startUP loan, the McGees had the chance to make their dreams a reality.
"MSU Federal Credit Union's startUP loan was exactly what we needed to get the doors open," Mark McGee said.
"We're thrilled to see our members achieve their goals and dreams by getting their businesses off the ground," MSUFCU's President and CEO Patrick McPharlin said. "By offering our startUP loan to Mark's Gourmet Dogs, we helped enable them to grow their business. We hope to provide the same opportunities for other business ventures in the Greater Lansing area."
The story was also featured in CU Times.
Submissions to Monitor may be
emailed
. Bryan Laviolette is the editor of Monitor. Contact him
by email
or call (800) 262-6285, ext. 233. The newsletter of the Michigan Credit Union League is published Monday mornings or Tuesday mornings when Monday is a holiday. There is no Monitor the week after Christmas and the week after the Annual Convention and Exposition. The MCUL reserves the right to edit submissions for clarity and space.