Print
Gov. Snyder Presents Corporate Community Leader Award to American 1 CU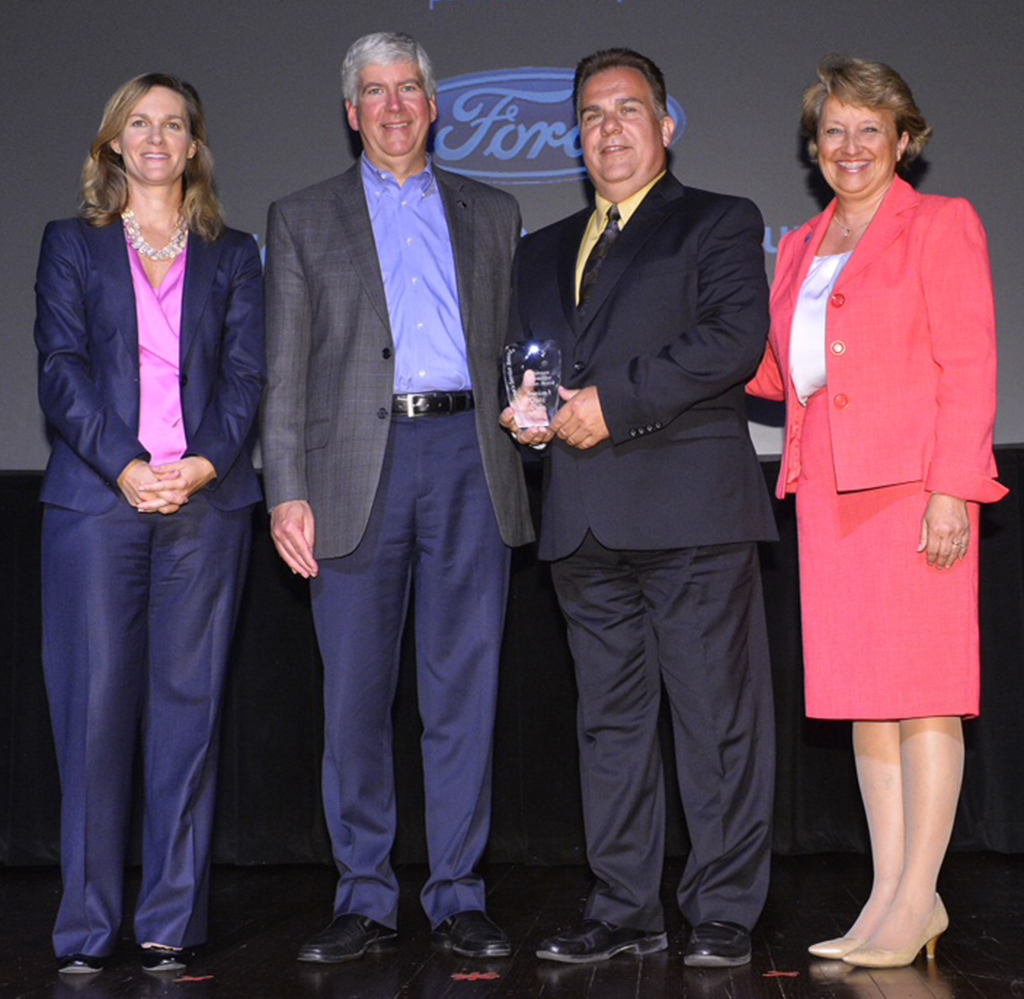 Gov. Rick Snyder presents the Corporate Community Leader award to Terry Krieg, a member of the American 1 CU board. From left are Mary Culler, Ford Motor Co. director of governmental affairs, Snyder, Krieg and Carolyn Bloodworth, Michigan Community Service Commission Board chairwoman.
American 1 CU received the 2014 Corporate Community Leader award from Gov. Rick Snyder. The award, part of the Michigan Governor's Service awards, honors the credit union's service to the community. The awards were presented June 30 during a ceremony at the Gem Theatre in Detroit.
The awards honor exemplary volunteer service by individuals, organizations and a business. The Corporate Community Leader award honors businesses that demonstrate excellent corporate citizenship by giving back to their community through corporate volunteer programs, monetary contributions, in-kind gifts, and employee-driven volunteer service.
In 2013, American 1 donations and sponsorships to the community totaled more than $100,000 between corporate donations and employee fundraising contributions. American 1 hosts 12 annual events for the public, with the income from booth fees and concessions going to local nonprofits. American 1 offers a scholarship program for high school seniors where credit union members donate $25 to the program to skip one month's loan payment; in 2013, 15 $1,000 scholarships were awarded to local students.
"We're thrilled and honored to be recognized by the Governor with the award for Corporate
Community Leader," Vice President of Marketing Kristi Edgar said. "Being a member-owned, local financial institution it's the mission of our board of directors and the entire American 1 team to give back to the communities we serve.
The story was featured on Mlive.com/Jackson.
Submissions to Monitor may be
emailed
. Bryan Laviolette is the editor of Monitor. Contact him
by email
or call (800) 262-6285, ext. 233. The newsletter of the Michigan Credit Union League is published Monday mornings or Tuesday mornings when Monday is a holiday. There is no Monitor the week after Christmas and the week after the Annual Convention and Exposition. The MCUL reserves the right to edit submissions for clarity and space.