Print
16 for 16: Contact Highlights Unanimous Support from State Congressional Delegation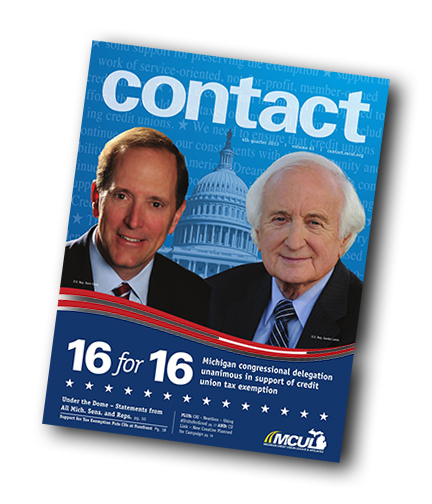 The fourth quarter issue of Contact magazine showcases the unanimous support from the Michigan congressional delegation. The issues features complete statements from each of the state's 14 representatives and two senators as credit unions battle in Washington to keep the federal credit union tax exemption. Click on the magazine to read the iPad-friendly online version.
Submissions to Monitor should follow the
submission guidelines
and may be
emailed
. Shawn Glinis is the editor of Monitor and can be reached at 800-262-6285, ext. 449. The newsletter of the Michigan Credit Union League is published Monday mornings or Tuesday mornings when Monday is a holiday. There is no Monitor the week after Christmas and the week after the Annual Convention and Exposition. MCUL reserves the right to edit submissions for clarity and space.