Print
Kolhoff Named Chair of NASCUS Board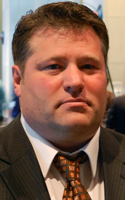 Kolhoff
The Department of Insurance and Financial Services' John Kolhoff has been appointed chair of the National Association of State Credit Union Supervisors Board of Directors. Kolhoff, director of the Office of Credit Unions, was elected at the annual meeting on Sept. 18 in Idaho.
"We'd like to congratulate John Kolhoff for his appointment to chair the NASCUS board," MCUL & Affiliates CEO David Adams said. "John has done great work in the Office of Credit Unions. Michigan credit unions have appreciated the open dialogue we have had with regulators under his leadership."
"John's selection as chair is a testament to the great work being done by DIFS staff to ensure that Michigan credit unions operate safely and soundly," DIFS Director Kevin Clinton said. "In his role as chair, John will ensure that Michigan remains an influential voice in this vital national organization."
As director of the Office of Credit Unions, Kolhoff is responsible for safety and soundness supervision of 186 state-chartered credit unions and information technology examinations for all state-chartered credit unions and banks. He has worked for the Department of Insurance and Financial Services since 1994 and has been a member of NASCUS since 2003, and began serving on the board in 2011.
NASCUS, a professional regulators association, is the primary resource and voice of the 47 state governmental agencies that charter, regulate and examine the nation's state-chartered credit unions. NASCUS is the only organization dedicated to the defense and promotion of the state credit union charter and the autonomy of state credit union regulatory agencies.
Submissions to Monitor should follow the
submission guidelines
and may be
emailed
. Shawn Glinis is the editor of Monitor and can be reached at 800-262-6285, ext. 449. The newsletter of the Michigan Credit Union League is published Monday mornings or Tuesday mornings when Monday is a holiday. There is no Monitor the week after Christmas and the week after the Annual Convention and Exposition. MCUL reserves the right to edit submissions for clarity and space.