Print
Former MCUL VP Pete Crear Honored at WOCCU Conference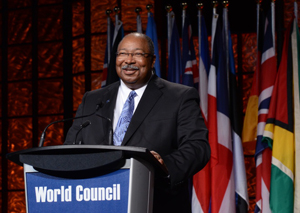 Pete Crear, former World Council president and CEO and MCUL & Affiliates vice president received the 2013 Distinguished Service Award.
OTTAWA, Canada — Credit union movement veteran Pete Crear, a former MCUL vice president, was among those honored at the World Council of CUs' annual conference.
Crear, who was an executive vice president and COO with CUNA before becoming president and CEO of WOCCU, received the Distinguished Service Award, the credit union industry's top global honor. During his time with WOCCU, Crear spearheaded disaster relief to earthquake victims in Haiti and established the first credit unions in Afghanistan.
Crear began his credit union career as a junior auditor at MCUL in 1965 on his way to becoming vice president of information and technical services for the league. He later served as president and CEO of the Indiana and Connecticut CU leagues.
"When I started in the credit union movement, I was a management trainee," Crear said. "It has been a pretty long journey. It doesn't matter where you start. It matters where you finish."

Submissions to Monitor should follow the
submission guidelines
and may be
emailed
. Shawn Glinis is the editor of Monitor and can be reached at 800-262-6285, ext. 449. The newsletter of the Michigan Credit Union League is published Monday mornings or Tuesday mornings when Monday is a holiday. There is no Monitor the week after Christmas and the week after the Annual Convention and Exposition. MCUL reserves the right to edit submissions for clarity and space.