Print
Snyder Names DIFS Commissioner Clinton as State Treasurer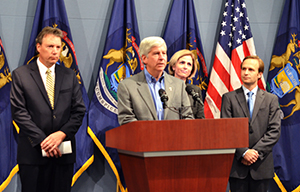 Gov. Rick Snyder introduces Kevin Clinton, left, as the state's new treasurer and Ann Flood as the new director of the Department of Insurance and Financial Services. With them is Lt. Gov. Brian Calley, right.
Gov. Rick Snyder has appointed Kevin Clinton, currently the director of the state Department of Insurance and Financial Services, as the new state treasurer replacing Andy Dillon, who resigned.
Snyder also appointed DIFS Chief Deputy Director Ann Flood as the new DIFS director.
"Kevin Clinton is an experienced and capable leader with a track record of success," Snyder said. "I am confident he will serve the Department of Treasury and the people of our great state well as we continue our work to reinvent Michigan."
Clinton, who has 35 years of financial and insurance industry experience, has served as DIFS director since it was created last year, shepherding the new department responsible for regulating Michigan's financial industries, including banks, credit unions, insurance and mortgage companies. The department has more than 350 professionals dedicated to protecting Michigan consumers by ensuring the companies it regulates are safe and sound, following state and federal law, and upholding public confidence.
In announcing Flood's promotion, the governor noted that Flood has more than 25 years of experience in the legal, insurance and health care fields.
"Ann Flood is a natural successor to Kevin to lead our team at DIFS," Snyder said. "She has been there from the start, and I look forward to her continuing that great work as director of the department."
While serving as the DIFS chief deputy director, Flood was responsible for the department's Office of General Counsel, Office of Insurance Evaluation, Office of Insurance Rates and Forms, the Budget Office, Information Technology Services and Human Resources. Flood is a member of the State Bar of Michigan and is a registered nurse. She received a bachelor's degree in nursing from the University of Michigan and a law degree from Wayne State University.
Both appointments are effective Nov. 1.
Clinton's appointment is subject to approval by the state Senate.

Submissions to Monitor should follow the
submission guidelines
and may be
emailed
. Shawn Glinis is the editor of Monitor and can be reached at 800-262-6285, ext. 449. The newsletter of the Michigan Credit Union League is published Monday mornings or Tuesday mornings when Monday is a holiday. There is no Monitor the week after Christmas and the week after the Annual Convention and Exposition. MCUL reserves the right to edit submissions for clarity and space.