Alloya-CenCorp Merger Finalized
---
Indirect Auto Lending and Fair Lending Act Protects Car Buyers
On March 21, the Consumer Financial Protection Bureau (CFPB) issued bulletin 2013-02, explaining that certain lenders that offer auto loans through dealerships are responsible for unlawful, discriminatory pricing. Although this bulletin provides guidance to indirect auto lenders within the CFPB's jurisdiction, it is important for all credit unions that have indirect lending relationships to note the potential violations to the Equal Credit Opportunity Act (ECOA) that may occur in these types of relationships. Specifically, indirect auto lenders may not permit dealers to increase consumer interest rates and compensate dealers with a share of the increased interest revenues. Because of the incentives these policies create, and the discrimination they permit, there is a significant risk that they will result in pricing disparities on the basis of race, national origin and potentially other prohibited biases.
Credit unions should take steps to review their existing indirect relationship and lending program to ensure they are operating in compliance with the ECOA and Regulation B as applied to dealer mark up and compensation policies. These steps may include, but are not limited to:
· Imposing controls on dealer markup, or otherwise revising dealer markup policies;
· Monitoring and addressing the effects of markup policies as part of a robust fair lending compliance program;
· Eliminating dealer discretion to mark up buy rates, and fairly compensating dealers using a different mechanism that does not result in discrimination, such as flat fees per transaction.
For reference, there are steps included in the CFPB bulletin, along with some features of a strong fair lending compliance management program.
---
Federal Reserve Board's second survey on Consumers and Mobile Financial Services posted, Smartphone
Mobile services are particularly prevalent among the "unbanked" or "underbanked", which are those consumers who have banking accounts but also use alternative financial services such as a payroll card, payday lender or check casher. Ninety-percent of this group had mobile phones, and among them, 49% used mobile banking during the 2012 period, up from 29% in 2011. Among the unbanked consumers, the most commonly cited reason for not having an account was simply not needing or wanting one (23%).
According to CUNA's compliance blog from March 27, 2013 the NCUA is particularly concerned by the operational risks triggered by new technology (online banking, remote deposits, mobile banking, social media, etc.). Credit unions should expect an NCUA Letter to Credit Unions in the next few months on "eBanking".
In summary, as identified in the FRB's report, mobile banking continues to be an important member service tool and will also be useful in attracting the "unbanked" or "underbanked". Credit unions utilizing this product and those credit unions considering entering the market should be cognizant of compliance issues, looking out for the NCUA Letter to Credit Unions mentioned above and also looking at existing regulations to see how they apply to mobile banking.
---
CFPB finalizes Credit Card Act Rule
On March 22, 2013, the Consumer Financial Protection Bureau (CFPB) finalized an amendment to Regulation Z, which implements the Truth in Lending Act, so that the limitation on the total amount of fees that a card issuer may require a consumer to pay with respect to a credit card account stands at 25% of the credit limit during the first year after account opening. Regulation Z previously stated that this limitation applied "prior to account opening and during the first year after account opening."
The final rule is in response to a federal court ruling issued last year that granted a preliminary injunction to block a part of the Federal Reserve Board's (Board's) 2011 rule from taking effect. The blocked part of the rule extended the fee limitation to include fees incurred prior to the opening of the credit card account. The authority to implement the Card Act has since transferred from the Board to the CFPB. The CFPB issued a proposal last year to amend the rule to be consistent with the court ruling, which they have now finalized.
---
Show your Commitment to Youth Financial Education and Win Prizes
Michigan credit unions are committed to youth financial education and we've been able to show that primarily through reporting totals gathered by the National Youth Involvement Board (NYIB) and CUNA. Through this reporting we can see that historically, Michigan credit unions are engaged in youth financial education more extensively than any state in the nation. During the last school year, Michigan credit unions reported to the NYIB that they conducted 2,001 financial education presentations reaching 46,976 youth. And, as reported to CUNA, 59 Michigan credit unions operate 395 student credit union branches in the state. The actual numbers are likely even larger as some activities go unreported.
Credit unions in Michigan and around the nation understand the importance of financial education for youth but they don't always take the time to report their efforts. Reporting is important to show our commitment in reaching and teaching youth. In order to encourage reporting of youth financial education presentations, the National Youth Involvement Board is offering weekly incentives to help reach its lofty goal of documenting that credit unions will reach more than 500,000 students this reporting year.
---
MCUF Scholarships Available for CUNA Management School – Application Deadline April 12
The Michigan CU Foundation is now accepting applications for scholarships for the 2013 CUNA Management School that will be held in Madison, Wis., from July 14-26. These scholarships are awarded annually to encourage the development of professionals committed to serving in the credit union system.
---
Last Chance To Register for GAC in Lansing This Week
Michigan lawmakers will be meeting with representatives of Michigan's 4.5 million credit union members during the MCUL & Affiliates Governmental Affairs Conference, taking place this week, April 9 & 10 in Lansing.

Those who are interested in attending may call the League at (800) 262-6285, ext. 225 to register for the important event featuring a keynote presentation by Michigan's Attorney General Bill Schuette, networking with both House and Senate Financial Institution Committee members, meetings with lawmakers and much more.
---
Financial Counselor Training Program Registration Open Until May 1
MCUL & Affiliates is getting ready to launch another round of the guided financial counseling training and certification program that combines the lower cost and convenience of a CUNA self-study program with the valuable group hands-on learning and networking of an off-site training school. This popular training program has been attended by 239 Michigan participants in the past three years and is used in a variety of ways to help members build a strong financial future. Using CUNA's Financial Counseling Certification Program, participants completing the course will become Certified Credit Union Financial Counselors (CCUFC) with the skills and knowledge to help guide members in personal money management principals. Funding from the Michigan Credit Union Foundation will again bring the NCUF's REAL Solutions enhancements to Michigan; with live group sessions to provide hands-on training and bi-weekly group conference calls to supplement the modules. Full details and registration information can be found here. For more information contact MCUL & Affiliates Financial Education Manager Beth Troost at beth.troost@mcul.org or by phone at (800) 262-6285, ext. 453.
---
Four Representatives From Each Chapter to Attend AC&E for Free
Chairpersons of MCUL & Affiliates chapters have until April 25 to contact char.turowski@mcul.org with the names of up to four eligible participants from their chapter who have been selected to receive complimentary admission to the League's 2013 Annual Convention and Exposition, taking place May 16-18 at the Detroit Marriott at the Renaissance Center.
To qualify, participants must have never attended the AC&E in the past, thus providing a tremendous opportunity for up-and-coming credit union employees and volunteers to benefit from professional development. The special offer is also an ideal way for seasoned-professionals from each chapter to attend the conference and serve as a mentor to a first-time attendee from their region.
The invitations for four first-time attendees from each chapter to attend for free has been placed in the care of each chapter's chairperson, allowing them to decide the best way to select participants to go to this amazing conference.
The Grand River, Huron Valley, Metro West and UP chapters have already submitted the names of their delegates to attend, including Marie Molise, branch administrator from SIR Federal Credit Union. Molise says she is "looking forward to the large number of education breakout sessions" taking place at this year's AC&E.
"The educational sessions benefit both the credit union management and board of directors," Molise stated. "There are also lots of opportunities to network with other credit union employees. Sharing ideas and experiences with one another is another great way to expand your education."
Each attendee will receive complimentary full-conference registration, a $339 value. The free registration option does not include hotel accommodations, parking, travel costs or additional meals beyond those included in registration.
The AC&E is packed with training and networking opportunities and features an exposition with over 100 exhibitors. To view the full agenda and information about keynote presentations, general sessions and the amazing line-up of speakers, click here.
---
Activities Planned For Attendees at Annual Convention and Exposition:
 Ford House Tour, Ovatio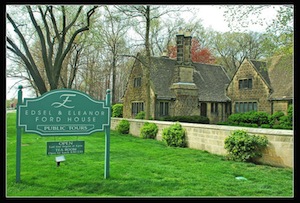 Edsel and Eleanor Ford House in Grosse Pointe Shores
Plenty of fun social activities are planned at this year's MCUL & Affiliates Annual Convention and Exposition, providing attendees outstanding networking opportunities and offering unique experiences for guests who join participants at the popular conference.
Being held at the Detroit Marriott at the Renaissance Center, May 16-18, the first evening of the event features a fun Motown-themed Welcome Reception that is sure to include great conversation, food, drink and music.
While attendees are busy at the conference, guests will find a myriad of activities on the agenda especially for them. Thursday features Michigan artist Sue Wagner who will be on hand to run a Jewelry Creations workshop based on her designs working with natural materials, and on Friday guests can choose a motor coach outing to the historic Edsel and Eleanor Ford House for a tour and lunch at the Albert Kahn designed estate situated a short distance away on the shore of Lake St. Clair.
Thursday also features guest enrichment training sessions, including Cynthia Shelby-Lane, MD presenting Laugh More, Live Longer and Tim Moffitt, PhD presenting This Isn't Your Father's Retirement. Saturday includes a fun workshop ideal for guests to create a jar of Scented Sprinkles as a complimentary keepsake to take home.
Attendees will have plenty of opportunities to interact and exchange ideas with their peers, in both informal and facilitated settings. Participants should consider bringing a comfortable pair of walking shoes for a new optional activity, kicking-off Friday and Saturday morning at 6 a.m. by getting some exercise walking a designated lap-area with other conference goers. Friday's agenda also includes a CUES Luncheon: Friends, Food and Focus on Strategic Planning Considerations and excitement at the Children's Miracle Network Hospitals: Credit Unions for Kids Live Auction, cocktail hour and light refreshments.
The event fun will begin to wrap-up Saturday with a popular afternoon excursion aboard the Ovation Yacht, cruising the scenic Detroit River. Later, attendees and their guests will board a motor coach for the closing event being held at Mark Ridley's Comedy Castle where dinner and a performance will be enjoyed.
The Detroit Renaissance Center is home to great shopping, restaurants and a movie theater, and offers access to a Detroit People Mover station and a connected walkway to the Millender Center and more shopping, without needing to step outside. Be sure to read more here about activities included in registration categories and which select events require additional tickets. Attendees are highly encouraged to book hotel rooms by April 24 here. Complete details about the conference and event agenda can be found by clicking here.
---
Empower Staff to Improve Collections: Schools Being Hosted in Marquette and Plymouth
Now more than ever, every credit union needs to continue to reassess their collections function to make sure they are getting the most from their limited resources and maintaining an effective collections process. In conjunction with the Collections Consortium, MCUL & Affiliates is hosting two Collector's Training Schools next month, and those who register soon can save on registration.
The first Collector's Training School will be held May 2 at the Holiday Inn in Marquette and features attorney David Wolfe. The popular school then moves to The Inn at St. John's in Plymouth on May 8, with collection authority Karin Brown. Registration is $169 per person for early registration by April 22 for Marquette, and by April 24 for Plymouth; after these dates registration is just $199 per person.
---
Experience! Understand! Empower! Taking Place in May

What do low-wealth families and Americans preparing for retirement have in common? Both have a need for financial services to help them move forward in their financial lives. During a simulation event presented by the Michigan Credit Union Foundation and facilitated by NCUF's REAL Solutions on Wednesday, May 15, attendees will come to understand the specific needs of members in these groups by participating in an experiential learning activity to help them better empower members to thrive financially.
---
More CFPB Training Offered as Webinar April 11

A webinar focused on the Consumer Financial Protection Bureau's Overdraft Services Update, Remittance Transfers & Payday Lending will be offered April 11 from 1-2:30 p.m. (ET). Attorney Rob Rutkowski will cover the impact of CFPB on overdraft programs, Reg E updates on disclosure rules for remittance transactions and new requirements related to payday lending. The webinar is priced at just $129 per connection, which includes a complimentary archive that may be downloaded, saved and shared with colleagues. To learn more and to register, click here.
---
Health Reform - PPACA Update for Employees Webinar Approaches

Employers of all sizes will be impacted one way or another by health care reform beginning in January 2014. But groups with 50+ employees are most at risk for compliance issues and penalties.
---
Register Now for Charity Golf Outing
Registration is open for the 19th annual Michigan Credit Union Charity Open golf outing at 9 a.m. on May 15 at The Inn at St. John's in Plymouth. This kick-off event for the 2013 Annual Convention and Exposition is a great time for board members and credit union staff to network and enjoy a day on the golf course.
Registration is open to the first 144 registrants only, and you must register before the deadline of April 15. Cost is $200 per golfer, and includes 18 holes of golf, cart, drink tickets, lunch and an awards dinner. The Michigan CU Foundation and Children's Miracle Network will receive the proceeds of this event.
During registration there will be a continental style breakfast beginning at 9 a.m.
Click here for more information and to register.
---
Press Room Update
Each week, MCUL Public Affairs adds new links to the Press Room area of its website featuring credit union media coverage in a variety of formats statewide and nationally. If your credit union has been featured in the media, let us know. Email a link to Mona.Shand@mcul.org.
The latest articles are kept in the Press Room , but other clips are still available in the archive.
---
CUBE TV Update
CUBE TV is the MCUL's online video portal, with regular updates of topics and information for CUs: http://mi.cubetvonline.com/cubetv/
---
League News and Events

...A webinar on the Top 10 Potentially Profitable Products of 2013 will be hosted April 23 from 1-2 p.m. (ET) with Shari Storm, a former member of Filene's prestigious i3 team. She will take a look at some new and a few not-so-new products that could be earning credit unions a revenue stream in the coming year, identifying ten products that should be on the radar. The session is priced at $169 per Internet connection, which includes a complimentary archive. To learn more or to register, click here.
---
In Brief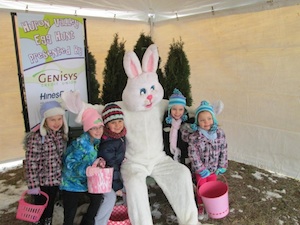 Easter Bunny with happy egg hunters at Huron Valley Egg Hunt
… Genisys CU was the presenting sponsor for the annual Huron Valley Egg Hunt, which took place at Duck Lake Pines Park in Highland.
The event, hosted by The Huron Valley Chamber of Commerce, attracted several hundred children from the Huron Valley School District along with their parents. Families were able to visit the Easter Bunny, have their face painted, and participate in multiple kids activities.
"It's great to see how excited the kids are when we start the Egg Hunt," said Laura Bolyard, events manager at the Huron Valley Chamber of Commerce.
This is the fifth year that Genisys CU has been the presenting sponsor of the Egg Hunt.
"This is one of the many wonderful events that Genisys sponsors for the children," said Jackie Buchanan, President/CEO. "We are glad to be a part of something that brings smiles to many children in the Huron Valley community."
For more information on how you can become involved with this event, please visit the Huron Valley Chamber of Commerce website at www.huronvcc.com.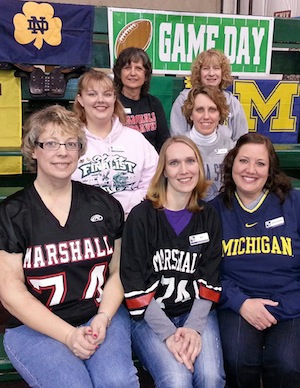 Marshall Community CU employees participating in the Oaklawn Hospital Benefit Auction. Back row left to right: Jan Buskirk & Katie Schook; Middle row left to right: Lori Burcaw & Julie Zink; Front row left to right: Patti Bergstresser, Maxi Rhodes and Nicole Thomas
… Seven representatives from Marshall Community CU recently volunteered their time at the 23rd annual Oaklawn Hospital Benefit Auction. MCCU's Vice President of Members Service Patti Bergstresser and Branch Manager Nicole Thomas also served as finance co-chairs on the steering committee. Other MCCU volunteers worked at the finance table during the night long event.
Since its inception in 1991, the Oaklawn Auction has raised about 1.4 million dollars for the hospital.
…Senior Health Partners were awarded a $1,000 OMNI "Gives Back" grant by OMNI Community CU. The grant was used for a Santa Sock Hop, held in December 2012. The event was free to 250 elderly, low income, at risk seniors in Calhoun County and included a meal, entertainment and dancing.
"We are overjoyed to have provided this grant for Senior Health Partners. They put on a lovely event for seniors in our community who might otherwise spend the holidays alone," said OMNI CEO Ted Parsons.
Linda Grap, director for Senior Health Partners, said, "We are fortunate to live in a community that cares about our older adults and are especially grateful to local businesses like OMNI Community Credit Union who believe in giving locally."
OMNI is now accepting applications for the grant program and has committed to provide $50,000 in grants in 2013. To apply visit www.omnigivesback.org.
Teller, Honor CU, Plainwell
Account Specialist, Honor CU, Paw Paw
Programmer, Bay Winds FCU, Charlevoix
Teller, Honor CU, Niles
Part-Time Teller, Security CU, Owosso
Member Service Representative/Loan Officer, Consumers CU, Holland
Lending Manager, Filer CU, Manistee
Part-Time Teller, Alliance Catholic CU, Sterling Heights and Troy
Compliance Specialist II, Educational Community CU, Kalamazoo
Part-time Teller, Rogue River Community CU, Sparta
Collector, Bay Winds FCU, Petoskey
Assistant Vice President, Michigan First CU, Lathrup Village
Human Resources Manager, Michigan First CU, Lathrup Village
Branch Manager, Grand Valley Co-Op CU, Grand Rapids
Part Time Accounting Clerk, Community Choice CU, Farmington Hills
---
Submissions to Monitor should follow the
submission guidelines
and may be
emailed
. Shawn Glinis is the editor of Monitor and can be reached at 800-262-6285, ext. 449. The newsletter of the Michigan Credit Union League is published Monday mornings or Tuesday mornings when Monday is a holiday. There is no Monitor the week after Christmas and the week after the Annual Convention and Exposition. MCUL reserves the right to edit submissions for clarity and space.
Subscribe to the Michigan Monitor at www.MCUL.org/MonitorSubscription