Print
CEO of Former United Family CU Dies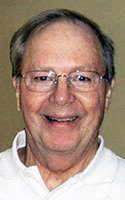 Elsenheimer
Jerry Elsenheimer, CEO of the former United Family CU in Waterford Township, died Thursday, March 4. He was 71.
Vicki McIntosh, president/CEO of Belle River Community CU, said United Family merged into Unity CU.
Visitation is Sunday from 2 p.m. to 9 p.m. at Wujek-Calcaterra & Sons in Shelby Township. The funeral service is scheduled for Monday, when his body will lie in state from 11 a.m. until the service at noon at Faith Lutheran Church 37635 Dequindre Road in Troy. Donations are welcome to the American Cancer Society or the Michigan Humane Society. Spring interment will be at Rock Falls Cemetery in Harbor Beach. Read the full obituary at Wujek-Calcaterra & Sons.

Submissions to Monitor may be
emailed
. Bryan Laviolette is the editor of Monitor. Contact him
by email
or call (800) 262-6285, ext. 233. The newsletter of the Michigan Credit Union League is published Monday mornings or Tuesday mornings when Monday is a holiday. There is no Monitor the week after Christmas and the week after the Annual Convention and Exposition. The MCUL reserves the right to edit submissions for clarity and space.