Print
MCUL Receives Money Smart Week Award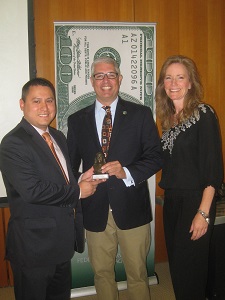 MCUL & Affiliates recently received an award for its support of a national financial education awareness campaign.
MCUL was honored with the Strategic Partner Award for its sponsorship of Money Smart Week (MSW) held this year on April 18 to April 25.
Hundreds of MSW events were held across the state in an effort to equip people with the tools they need to master their finances.
For the second straight year, MCUL & Affiliates sponsored books to be given to families as part of the Money Smart Kids Read initiative during Money Smart Week.
This year, MCUL donated 6,500 copies of the Berenstain Bears' Dollar$ and $en$e book, which was scheduled to be read to children at more than 200 libraries across the state. Each book included a note stating the books were donated by Michigan's credit unions and CU Link.
Submissions to Monitor may be
emailed
. Laura Michels and Eryn Kuchenrither are interim co-editors of Monitor. Contact them at (800) 262-6285. The newsletter of the Michigan Credit Union League is published Monday mornings or Tuesday mornings when Monday is a holiday. There is no Monitor the week after Christmas and the week after the Annual Convention and Exposition. MCUL reserves the right to edit submissions for clarity and space.