Print
Peters Bill Would Give Borrowers Second Chance After Student Loan Defaults
MCUL & Affiliates is supporting a bill introduced by U.S. Sen. Gary Peters that would help student loan borrowers with a one-time opportunity to rehabilitate their credit.
Peters' bill, the FAIR Student Credit Act, co-sponsored by Sen. Shelley Moore Capito, R-West Virginia, would allow a borrower with private student loans to enter a program that would remove defaults on their credit if they are able to make nine consecutive monthly payments on the loan.
"It really amounts to a second chance for students," said Peters, D-Bloomfield Hills.
Peters spoke at an event at Michigan State University's MSU Union, where he was supported by several students as well as MCUL & Affiliates President/CEO David Adams and MSUFCU CFO Sara Dolan.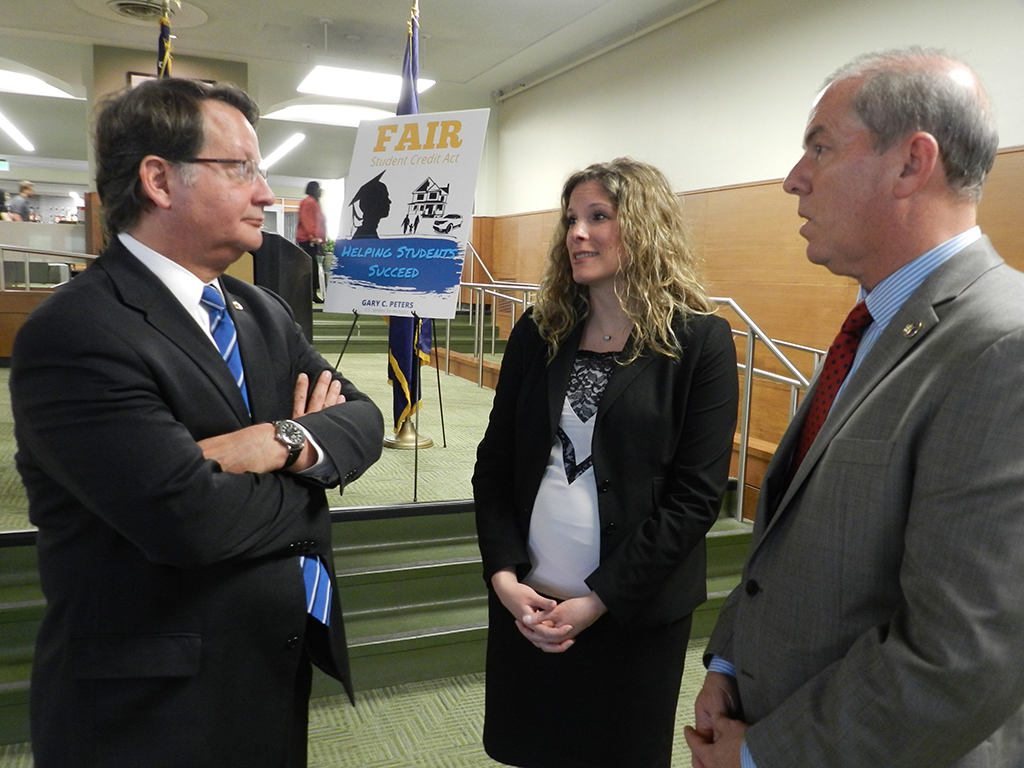 Sen. Gary Peters, left, talks to MSUFCU CFO Sara Dolan and MCUL & Affiliates President/CEO David Adams.
Peters said defaults often happen when newly graduated students have difficulty finding jobs or begin their careers working on jobs that don't allow them to make their full payment. He added that federal student loans already offer this program and his bill is written to mirror it.
The program has no fiscal impact because it does not forgive the debt, he said.
Adams said the change would allow credit unions to work with people who otherwise wouldn't be eligible for loans. Because of the defaults, many student loan borrowers find themselves unable to get a credit card, car loan or even the apartment they want.
"We need to create a fair, balanced environment so lenders can continue to lend," Adams said.
Afterward, Adams said Peters' bill is not a debt forgiveness program.
"What I like about Peters' bill is it doesn't say that it's OK to walk away from a responsibility," Adams said.
Stephanie Ly, an MSU graduate who is currently working as an international student advisor for the university, said student loans were the only way she would be able to attend college because her parents are Cambodian refugees
Submissions to Monitor may be
emailed
. Bryan Laviolette is the editor of Monitor. Contact him
by email
or call (800) 262-6285, ext. 233. The newsletter of the Michigan Credit Union League is published Monday mornings or Tuesday mornings when Monday is a holiday. There is no Monitor the week after Christmas and the week after the Annual Convention and Exposition. The MCUL reserves the right to edit submissions for clarity and space.