Print
Two Michigan CUs Make List of Top Industry Mortgage Producers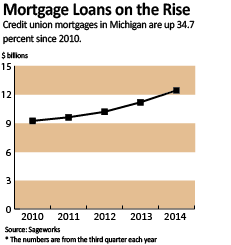 A pair of Michigan credit unions is on the list of top mortgage-lending credit unions for the Midwest Region.
According to Sageworks, a financial analysis company, Lake Michigan CU had the third-highest total of mortgages in the Midwest. MSUFCU placed 10th on the Midwest list. Sagework reported that LMCU had $1.67 billion in first mortgages through the third quarter of 2014. It listed MSUFCUs mortgages at $761 million.
In addition, Sageworks reported that Michigan credit unions have increased first mortgage lending by 34.7 percent since 2010.
Sageworks breaks the country into four regions: Northeast, South, Midwest and West.
Not unexpectedly, the Big Three credit unions – Navy FCU, State Employees CU and Pentagon FCU, all in Sageworks South Region – topped all credit union mortgage producers by a wide margin. Navy Federal reported $19.3 billion, SECU had $12.9 billion and Pentagon had $10.3 billion. No other credit union was above $4 billion.

Submissions to Monitor may be
emailed
. Bryan Laviolette is the editor of Monitor. Contact him
by email
or call (800) 262-6285, ext. 233. The newsletter of the Michigan Credit Union League is published Monday mornings or Tuesday mornings when Monday is a holiday. There is no Monitor the week after Christmas and the week after the Annual Convention and Exposition. The MCUL reserves the right to edit submissions for clarity and space.