NCUA Changes Designation for Small-Asset-Size CUs

By David Adams
MCUL & Affiliates CEO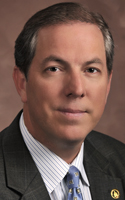 Thanks to a recent decision by the NCUA to reclassify what it means to be a small credit union, 107 additional Michigan credit unions officially fall under that designation. As such, we have expanded our distribution of this publication, and we are pleased to welcome new readers to SAS Gazette. We hope that you will find this publication to be a useful tool in navigating the particular circumstances faced by small credit unions.
MCUL & Affiliates is pleased to support a close-knit SAS community, with this publication being just one of a number of resources ranging from compliance to scholarships. You'll find details in the SAS portion of the MCUL website by clicking here. The league also hosts a very active online forum which is used daily by SAS credit unions to ask questions, seek advice and get answers from their counterparts across the state, and from our staff. You can register to join the conversation by clicking here.
MCUL was highly supportive of the NCUA's proposal to raise the threshold that defines a small credit union from $10 million in assets to $50 million. We see this as a step in the right direction toward providing some regulatory relief for SAS credit unions, and we applaud the decision. In conjunction with MCUL's advocacy, several of our credit unions submitted comments on the proposal as well, and it's rewarding to see our combined efforts pay off.
It's also an example of how we are stronger when we raise our voices together. This is the essence of our association, and it's also at the heart of our annual cooperative advertising campaign, which you will hear much more about in the coming weeks. Last year's record-setting campaign continued to help us make inroads toward educating the public about what credit unions have to offer in terms of lower fees, better rates and superior customer service. In addition to television and radio ads, outdoor billboards and online advertising, we also launched www.creditunionlink.org, which puts the power of the Michigan credit union community in one place, under one name. Our research shows that credit union awareness is now at an all-time high, and that there is a strong correlation between how much we are able to spend on this campaign and the results we are able to achieve.
We now have before us the opportunity to continue to progress down that path. Rest assured that your contribution to the campaign will help us better tell the credit union story on a statewide level. We are making big strides, and with your help, we can keep the momentum going.
In this issue, you'll find much more about our collective efforts, including the grants and opportunities made possible by your support of the Michigan CU Foundation, information on electronic payments for federal benefits and a story about the NCUA's new website for SAS credit unions. .
We welcome our new readers and we look forward to good things to come for the Michigan SAS credit union community.