Birth of a Credit Union: Community Promise FCU Opens Doors After Years of Trials

By Bryan Laviolette
SAS Gazette Editor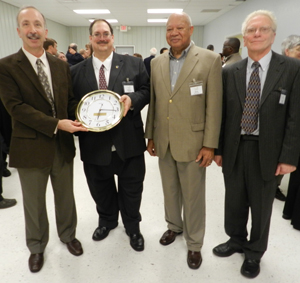 Ron Martin, left, league representative for MCUL & Affiliates, presents a clock to Community Promise FCU CEO Mike Ross, board Chairman Jim Houston and Community Relations manager Lee Kirk.
KALAMAZOO – How difficult is it to open a new credit union these days? Ask Lee Kirk, community relations manager for Community Promise FCU, which celebrated its grand opening on Feb. 27.
"It's been the adventure of a lifetime," Kirk said. "Nothing I ever did as an attorney compares to this."
Seven years in the making, Community Promise is in one of Kalamazoo's poorest areas, the Edison Neighborhood. Before Community Promise opened, there were no financial institutions in the area and many residents lived off payday loans.
"This is the first day of getting rid of payday lenders in our community," said Kalamazoo Mayor Bobby J. Hopewell to loud applause of dozens of people gathered at the Edison Neighborhood Association office, located around the corner from the credit union office.
The credit union has had tremendous support from many in the community.
The NCUA issues only two or three charters a year, causing many groups to give up on their dream of establishing one long before it comes to fruition.
"There have been times we didn't know if we were going to go around the next block," board Chairman Jim Houston said. Many volunteers bailed out along the way, but someone else always stepped in to help, he added.
Houston said the credit union offers some unique programs. For example, one program puts some of the interest paid on a loan back into a savings account for the accountholder. They won't have access to the money for two or three years, which will allow them to build up some savings, possibly for the first time in their lives.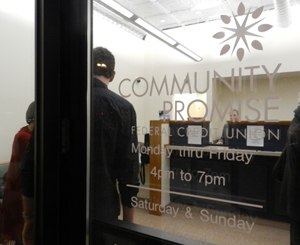 Community Promise FCU opened its doors in January, but celebrated with its Grand Opening on Feb. 26.
Charles Cornelius, president and CEO of Educational Community CU, said his credit union has supported Community Promise with advice and sharing of materials such as school program presentations.
"(Community Promise) is serving the people we are not serving," Cornelius said at the grand opening celebration. "I almost see them as an extension."
ECCU is just one of several Kalamazoo organizations that have helped. Other credit unions that have assisted include Kellogg Community FCU, Lake Michigan CU, Jackson Community CU and First Community FCU. Other organizations that have supported the new credit union include Bronson Healthcare Group, Bronson Park Clergy, Byce & Associates, Career Momentum, H. P. and Genevieve Connable Fund, Derkstudio, Douglass Community Association, Downtown Kalamazoo Inc., Edison Neighborhood Association, Family Health Center, First Baptist Church, First Congregational Church, First National Bank of Michigan, The Irving S. Gilmore Foundation, Goodwill Industries of Southwestern Michigan, Guardian Finance and Advocacy Services, Hispanic American Council, ISAAC, Jeska Interior Design, Kalamazoo College, Kalamazoo Community Foundation, Kalamazoo Cooperative Housing, Kalamazoo Public Library, Kalamazoo Public Schools, Keystone Community Bank, Local Initiatives Support Corporation, MCUL & Affiliates, n-Dimensional Design, Metropolitan Kalamazoo Branch of the NAACP, National Federation of Community Development Credit Unions, Northside Ministerial Alliance, People's Food Co-op, St. Joseph Catholic Church, TCB Enterprises, Temple B'nai Israel, Vanguard Church, W. E. Upjohn Institute for Employment Research and Western Michigan University.