Learn to Improve Generational Conflicts and Much More at HR, Trainer & Supervisor Institute

What's with those young people? Why won't those old timers change their ways? What can possibly be done to better manage as many as four generations of employees in the workforce?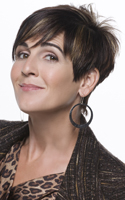 Johnson
The answers to all of those questions will be presented in a general session entitled "Zap the Gap" delivered by author Meagan Johnson at the HR, Trainer and Supervisors Institute – three unique events rolled into one which share general sessions and networking opportunities.
While generational differences in work ethic, motivation, approaches and communication styles are relevant in all work settings, they are likely to be more obvious (and challenging) in smaller credit unions with fewer employees. That's because in a smaller setting, it's all the more clear when a few seasoned staffers don't see eye to eye or understand the younger crew or even the members , and vice versa.
There is much more awaiting attendees on the agenda of the HR, Trainer and Supervisors Institute. With three distinct sets of breakout sessions with topics relevant to all three audience groups, the event is ideal for attendees from smaller credit unions who are responsible for multiple roles and wish to mix and match training from across all three agendas to best suit their needs.
The event features two insightful keynote addresses: "Growing Your Influence Upstream and Downstream," with organizational communication consultant Jackson Hataway, and "Life's All About Plan B," with personal empowerment coach Melissa Boyce. Other event highlights include:
HR Institute
Compliance During Hiring & Firing: A Side of Social Media
From Aspiration to Action: Innovation as a Key to Performance
Healthcare Reform Update
Diversity in the Workplace

Trainer Institute
Amplifying Efforts: Tools for Driving a Developmental Culture
Quality Training: Tips, Tricks, Technology and Resources
From Being a Trainer to Learning and Development Consultants
New Generation: How to Think About Learning & Development
Yoga Off the Mat

Supervisor Institute
Jack Wolf- a popular keynote speaker from 2011 returns!
Effective Problem Solving & Decision Making
Leadership Compliance
Internal Negotiation Skills: Conversation as a Management Tool
The high-energy conference is set for Tuesday and Wednesday, Sept. 25-26 and once again returns to the Amway Grand Plaza Hotel in Grand Rapids. Participants will also be excited to enjoy the ArtPrize® experience, a city-wide international art exhibition taking place in Grand Rapids, with some fun tie-in activities during the conference.
More information about the HR, Trainer and Supervisor Institute will be mailed soon and may be found online on the MCUL & Affiliates Education page.
If you miss her at AC&E, Johnson will also present Zap the Gap at the Fall Leadership Development Conference, Sept. 14-16. That conference will also be at the Grand Traverse Resort.