Visit to Africa inspires Detroit CU Leader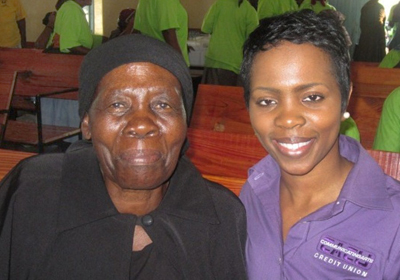 Ma Hooud, left, commands great respect in her village of Morwa, Botswana, according to Communicating Arts CU's Monique Dunbar.
It's been said that there are no small parts, only small actors. That's exactly the approach Monique Dunbar took when she had the opportunity to travel to Botswana earlier this year as part of the Global Women's Leadership Network, an initiative co-founded by World Council of Credit Unions and the Canadian Cooperative Association to bring together women credit union leaders from around the world.
"It didn't matter what size credit union I came from," said Dunbar, training and development manager for $35 million Communicating Arts Credit Union in Detroit and a network member. "I knew that I could make a difference, and that these women could make a difference as well."
This was Dunbar's first trip to Africa, and she was honored to participate in the Africa Women's Forum, a Global Women's Leadership Network event jointly hosted by the African Confederation of Cooperative Savings & Credit Associations and the Canadian Co-operative Association. She came to lead sessions on human resource and training initiatives, but came away learning as much from the group as they did from her.
"The women I met in Africa are so strong, so proud and so resolute that I came away from the experience inspired to succeed."
The transference from teacher to student is something not unusual for forum participants, according to Brian Branch, World Council president and CEO.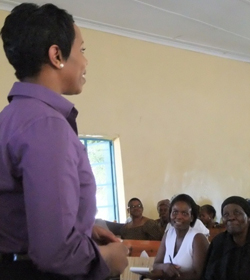 Monique Dunbar brought lessons in staff development and retention to Botswana, but she learned as much as she taught.
"The purpose of the Global Women's Leadership Network is to provide women with an international network that engages them in professional and personal development," Branch said. "We are grateful to Canadian Cooperative Association and to Monique for their work to provide this professional development across borders for African credit union women."
The lessons taught by Dunbar, who has been in her current position for two years, focused on staff development and retention. She also covered the importance of building rapport with members and boards of directors and striving to reach consensus in pursuit of credit union goals and objectives. Communication is key, she explained, stressing the need for listening actively in any discussion or negotiations.
"My primary message to the group was to stay positive," Dunbar said. "It's too easy to see so many conflicting demands as a way to keep you from achieving your goals, but you should never stop trying."
Dunbar says the trip had a life-changing impact on her, and has inspired her to set even bigger personal goals for herself.
"You don't see a lot of African-American women who are credit union CEOs, but that's not going to stop me from pursuing that goal," Dunbar said. "It's extremely important to me that future generations of staff exceed what I have done and that they, in turn extend their hand to the next in line. I feel that the women I met in Botswana have given me some wonderful examples to take home."
For more information about the Global Women's Leadership Network, visit www.cuwomen.org.