From the Archives: April 2013
Earn Noninterest Income and Grow Member Loyalty with Credit Union Auto Club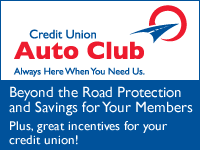 Does it feel like your credit union is maxed out on member reward programs? Oftentimes these programs involve a lot of effort on the credit union's behalf without much to show for all of that hard work. The team at CU Solutions Group's Invest in America program selects new partner discounts with that in mind.
Credit Union Auto Club, IIA's newest discount program, was created exclusively for credit union members to save on roadside assistance services. Plus, it enables your credit union to earn noninterest income. If your credit union enrolls in the Credit Union Auto Club program during the pilot and actively markets it to its members, it can earn marketing reimbursements of at least $5* per membership purchased.
If you'd like to learn more about the Credit Union Auto Club program, please join us for an informational webinar on April 24 or May 1, 8 or 15 at 2:00 p.m. EST. To attend one of these webinars, email IIAcreditunionautoclub@cusolutionsgroup.com and log-in information will be provided. Visit the Credit Union Auto Club program overview page in the Partner Center for complete program details or to enroll your credit union.
*Current plan pricing and marketing reimbursements are for the pilot program. Final plan pricing and marketing reimbursement is subject to change based on results and market intelligence obtained during pilot program.

Priority Initiatives
Federal and State Legislative Issues
Federal and State regulatory Issues
MCUL Publications