From the Archives: March 2013
Financial Counseling Training Certification Program; 2013 CRI Report; Jean Chatzky's 'Money Rules' Book is a Powerful Outreach Tool; MCUF CRI Mini-Grants

Plan Ahead for Financial Counseling Training Certification Program
Two hundred thirty-nine Michigan credit union professionals have participated in the MCUL financial counseling training program in the past three years. These credit union financial counselors will use the skills and knowledge obtained from the course in a variety of ways including one-on-one counseling, community seminars, enhancing member interactions and improving lending and collection activities.
The 2013 Financial Counseling Guided Self-Study Program is now open for registration. This training is appropriate for all credit union staff including branch management, lending and collection staff and community educators.
The unique training program combines the convenience of a self-study program with the group hands-on learning and networking of an off-site CUNA School. The training follows CUNA's FiCep Financial Counseling self-study curriculum and upon successful completion, participants will earn the CUNA certification of a Certified Credit Union Financial Counselor (CCUFC). Bi-weekly webinars and live group sessions to provide hands-on training, best practices and networking will be conducted by REAL Solutions, the signature program of the National CU Foundation.
The 2013 Michigan guided self-study training program will begin at the end of May and participants will complete the program in October. CUNA has provided a group discount for the FiCEP curriculum for participants. Because funding for the REAL Solutions training is provided by the Michigan CU Foundation, there will be no additional participation fee to credit unions for the group sessions or webinars.
See the registration form for more details and to register. Participants must register by May 1.

2013 Community Reinvestment Report Available to Tell the Credit Union Story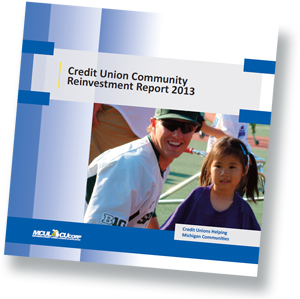 The 2013 Community Reinvestment Report is an annual advocacy tool that has recently been utilized to tell the credit union story to our lawmakers at the CUNA GAC. MCUL & Affiliates creates the report annually to highlight the community work that is at the core of credit unions' social mission and to show why credit unions offer a clear choice for consumers. A copy of the report is being mailed to all affiliated credit unions and is available by clicking here.

The report is designed for use by credit unions to communicate with members of Congress, the state Legislature, and the public about the economic and social impact that make credit unions unique. MCUL & Affiliates will continue to utilize the Community Reinvestment Report to advocate on behalf of credit unions at the upcoming Michigan GAC and at chapter legislative breakfasts throughout the year. We make sure every Michigan lawmaker, at the federal and state level, gets a copy of this report so they can see just how different we really are.

The Community Reinvestment Report is basically the credit union difference condensed into a couple dozen pages. It's highly visual and is chock-full of the most attention-getting statistics that support our movement. On a local level, individual credit unions can and should use the report to tell the story of how credit unions are different to local lawmakers and the business community; it is even a good tool to remind employees, board members and members that they are an important part of the impressive collective impact of Michigan credit unions.

The report uses data from multiple sources to create a representative picture of the engagement of credit unions in their communities. Each year, MCUL & Affiliates sends out a CRI Survey to capture data from credit unions on topics such as community service projects and youth financial education. One hundred sixteen credit unions completed the survey in the fall of 2012, representing 60% of Michigan's total credit union members.

Jean Chatzky's 'Money Rules' Book is a Powerful Outreach Tool; MCUF CRI Mini-Grants Available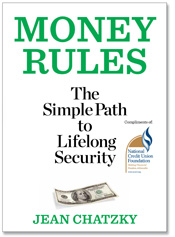 Through a special initiative of the National CU Foundation, Jean Chatzky's book "Money Rules: The Simple Path to Lifelong Security" is available to credit union organizations. This short book, containing 94 simple and memorable rules, is an effective tool that credit unions can distribute to help their community members ease financial stress and enjoy financial security.
To assist credit unions in utilizing this book in financial education outreach activities, the Michigan CU Foundation has 2,000 copies available which will be distributed through MCUF Community Reinvestment Initiative Mini-Grants.
Credit unions may apply for a MCUF CRI Mini-Grant to obtain up to 500 copies of the book to be distributed to a targeted group. Grantees are required to submit a plan summarizing how they will utilize the books as a part of a specific identified outreach project. This outreach may involve providing supplemental activities and/or the distribution and use of the book to a targeted audience with identified goals. "Money Rules" books are available under this mini-grant for a donation of $1 per book to the MCUF.
According to the NCUF website, "Money Rules" is a powerfully simple, must-have manifesto on money with more than 90 wealth-building rules from the Today Show's finance guru. In a time of great financial uncertainty, this is the book everyone must read. The bottom line message in the book is that money is simple — people make it complicated. Now, bestselling personal finance author Jean Chatzky has distilled this simplicity into a smart, immediate, and entertaining set of rules that will change readers' financial lives. Written in her trademark warm, witty voice, and with a special dos and don'ts section, this is the only book readers really need to achieve true financial health and happiness.
To preview the book and see Jean Chatzky discuss it on the Today Show, click here. Credit union organizations that do not wish to obtain a MCUF CRI Mini Grant may order the book directly from the NCUF for a donation of $3 per copy.
Outreach projects can be very simple or a part of a larger credit union project. Some ideas for possible outreach projects are:
Weave concepts from the book into your credit union financial education seminars or workshops or use the book as the main topic of the presentation.
Hold an in-person or virtual book club-style reading and discussion activity with your members, your employees, with community groups or in partnership with local libraries.
Partner with schools to utilize the book in activities in classrooms or with school groups/clubs.
Partner with community groups or service organizations to distribute and utilize the book with targeted groups (scouts or other teen groups, marriage or family preparation groups, unemployment support groups, community service recipients, etc.)
Supplement the book distribution with budgeting and money management tools/software to a targeted group.
Feature rules from the book on your website or social media and engage book recipients by asking them to provide input or comments.
Provide books to members receiving financial counseling or investment planning services.
Use the books to engage a targeted group such as graduating high school or college students, new members, members purchasing their first car or house, etc.
Provide a copy to everyone who participates in one of your community outreach projects to show your appreciation.
Partner with local TV/radio/newspaper to distribute books in a way that encourages engagement by recipients.
Click here upload grant application to apply for a MCUF CRI Mini-Grant. Fueled by donations from credit unions, chapters and business supporters, the MCUF provides support for Michigan credit unions to participate in educational and leadership development opportunities and community reinvestment initiatives. MCUF recognizes and promotes credit union leadership and community involvement. For more information, to apply for a scholarship or grant or to make a donation, see the MCUF website.
Gain Insight in Serving Low-Wealth Families and Helping Members Prepare for Retirement
What do low-wealth families and Americans preparing for retirement have in common? Both have a need for financial services to help them move forward in their financial lives. Come to understand their specific needs by participating in this experiential learning activity. Attendees will leave feeling empowered to be more effective in providing credit union services that will in turn empower members to thrive financially.
The bipartisan President's Advisory Council on Financial Capability's recent report to the president offers 15 recommendations to help the American people better understand financial matters. Programs such as Experience! Understand! Empower! can help credit union financial educators assist their members in learning to better manage their finances. Click here to see the report.
"One of our most significant understandings as a result of our two years of work is that financial capability is balanced upon three legs," says Ted Beck, council member and president and CEO of the National Endowment for Financial Education. "Financial education, effective regulation, and thoughtful design of options, also known as choice architecture, need to be present in appropriate amounts in order to build and sustain financial capability in consumers. Financial education will be more effective in an environment that supports financial capability."
Experience! Understand! Empower! will be May 15 – the day before the Annual Convention and Exposition – at the Detroit Marriott at the Renaissance Center. The full-day experiential learning session will include two simulation activities and will be of interest to anyone involved in credit union product and service development and delivery including management, financial educators and counselors, and community and business development staff. A "Life Simulation" will provide an understanding of what it is like to walk in the shoes of a low-wage working family. This experience will help participants better understand the needs of and provide better service to members who are struggling financially. The second experiential session of the day will be a "Retirement Fair" which is an interactive activity that encourages deeper thinking into the type of lifestyle desired in retirement and consideration of how that links to personal financial plans. The Retirement Fair activity is a tool that can be utilized by credit unions to help members and consumers of all ages make better use of credit union products and services to prepare for retirement.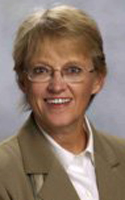 Kitsch
Lois Kitsch, two-time Herb-Wegner Award winner and the national program director of the National CU Foundation's REAL Solutions program, will facilitate the experiential learning sessions along with REAL Solutions Field Coach Mark Lynch. Over the past three years, Kitsch has championed experiential learning programs where students learn by doing, resulting in a more profound learning experience than rote learning. Through these experiential learning programs, thousands of students and consumers are better managing their finances and are building assets and wealth toward a better future.
The event is sponsored by the Michigan CU Foundation which helps to keep the cost very low, at only $55 per participant.
Because of the experiential nature of this event, participation is capped at 75 attendees. Register now to secure a space in this training. Click here for more information and to register.
MCUF Scholarships Available for CUNA Management School
The Michigan CU Foundation is now accepting applications for scholarships for the 2013 CUNA Management School that will be in Madison, Wis., from July 14-26. These scholarships are awarded annually to encourage the development of professionals committed to serving in the credit union system.
CUNA Management School is designed specifically for credit union management personnel who aspire to achieve senior-level management and leadership positions in the credit union system. Those who attend CUNA Management School receive advanced academic training with practical, real-life applications that will prove invaluable upon returning to their credit union.
Three scholarships will be awarded through the MCUF. Scholarship details and more information can be found here. Visit the MCUF website to access the online scholarship application. Applications must be received by April 12.
In addition to these scholarships, MCUF funding is available to Michigan credit unions for community outreach and financial education initiatives. Funded by donations from credit unions, chapters and businesses, the MCUF is able to offer this support to Michigan credit unions. Thank you to the 75 credit unions that have already made a donation to the MCUF in 2013. If your credit union has not already made a donation for 2013, consider doing so to help support the Michigan credit union community through the MCUF.
Detailed information, online scholarship and grant applications as well as donation forms can be found on the MCUF website. For additional information, contact MCUF Executive Director Beth Troost at Beth.Troost@mcul.org or (800) 262-6285, ext. 453.