From the Archives: September 2012
Reps. Camp and Walberg Co-Sponsor Privacy Notice Relief Legislation

Michigan Rep. Tim Walberg, R-Tipton, and Dave Camp, R-Midland, have officially signed on as cosponsors of H.R. 5817, the Elimination Privacy Notice Confusion Act. This MCUL-supported legislation would eliminate the annual requirement for communicating privacy notices to CU members unless there was a significant change to the institution's member privacy notice in a given year. As regulations continue to increase from the implementation of the Dodd-Frank Wall Street Reform and Consumer Protection Act, the MCUL continues to look for ways to alleviate unnecessary regulatory burden on CUs. Reps. Camp and Walberg are the first to cosponsor from the Michigan delegation, which should help pave the way for additional support in the coming weeks/month. After being introduced this past summer, the legislation was referred in mid-July to the House Financial Services Subcommittee on Financial Institutions and Consumer Credit, of which Michigan Congressman Bill Huizenga, R-Zeeland, is a member. The MCUL has encouraged all members of our congressional delegation to show their support of this legislation by co-sponsoring the bill. Click here to access the Library of Congress' bill summary and status page.
Meeting with Rep. Dave Camp Staffer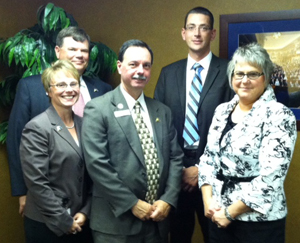 Dow Chemical Employees CU representatives Sheila Wright, Art Peters, Dennis Hanson (CEO), and Lisa Gray recently met with Ryan Tarrant (back), district director for Congressman Dave Camp, on the MCUL's current issues.
Priority Initiatives
Federal and State Legislative Issues
Federal and State regulatory Issues
MCUL Publications