From the Archives: September 2012
Michigan Credit Unions Support Job Creation as Membership Continues to Grow

By David Adams
At MCUL & Affiliates, we track a lot of industry data. We then try to promote the good works of credit unions so that our various stakeholders know what we're doing for Michigan's economy. Well, with the release of the second quarter NCUA Call Report data, we see continued strength in our credit unions' financial performance and we've added a new twist for our recent media release. Credit unions are great employers too.
The second-quarter Call Report data published by the NCUA shows that Michigan credit unions have seen some of the largest increases in hiring and business lending in recent years as they continue to serve a growing membership while contributing to the state's economic turnaround.

An analysis of the data by the MCUL shows that full-time employment at Michigan credit unions increased 1.2% in the second quarter of 2012, which represents the best quarterly increase in four years. Over the past year, full-time employment at credit unions rose 3.3% compared to 2.1% nationally. Full-time employment at Michigan credit unions has now increased for five straight quarters. In fact, Michigan's credit unions added 347 new full time jobs in the last 12 months bringing the total number of employees to 13,215. Nationwide, the trend was similar. Over 4,600 new jobs were added by U.S. credit unions during the past months ending June 30.
This data tells us that Michigan credit unions are not only good at providing outstanding services and products that help people and businesses save more and own their money but that they're also proud to help put people back to work in good jobs and to be part of the solution to today's number one economic challenge, creating jobs. Michigan's economy is slowly coming back in several sectors, and I am pleased that our credit unions can also put out the 'now hiring' sign. When people have jobs, they spend locally and that benefits our entire community.
Consider the message that was sent just a few years ago when Michigan's largest bank, Comerica, announced the relocation of its corporate offices to Texas. This was done during the depth of Michigan's economic woes. We also know that many other banks have consolidated their operations out of state or merged with out of state banks. Through it all, Michigan's credit unions are embedded in every community in Michigan from Marquette to Monroe and from Alpena to St Joseph.
Nearly one-third of Michigan's credit unions added new full-time employees in the past 12 months. That includes Clinton Twp.-based Michigan Schools & Government CU, where hiring is up 29%, and the credit union reports that the number of year-to-date hires is double the pace of 2011.
MSGCU CEO Pete Gates reports that with more than 8,000 applicants vying for open positions at their credit union this year, the response to their job postings is overwhelming. As Gates said, "MSGCU plays a central role in their community and that means doing everything they can to support the families and businesses they serve, including hiring locally and creating jobs."
This commitment to community is a credit union mantra. Nobody does it better than credit unions. That is why MCUL is committed to a substantial cooperative advertising spend of over $3.7 million in 2012. We have recently changed our advertising agency and our message and will present this plan to our committee and board later this month. By the way, a subtle change to our campaign is that it will now be called the CU Link campaign, to better align with our new CULink brand and Website that can be shared by participating credit unions.
Thanks again to our Michigan credit union community for supporting the CU Link campaign. More than 61 percent of our credit unions contributed a record-high $950,000. MCUL & Affiliates put in the other 70 percent of the media buys as well as funding the production costs for the campaign. The "Own Your Money" campaign will expand yet again in 2013 with improved creative, more opportunities for brand integration with credit union advertising and supplemental spends that will showcase credit union business lending and the Invest in America program.

The hiring trend is in part the result of credit unions' growing membership. Michigan credit unions added an additional 12,000 new members in the second quarter of 2012, for a total of more than 74,000 in the past 12 months. More than 4.5 million Michigan residents, or half the state's population, are now credit union members. This new membership growth is being fueled, at least in part, by our credit union community's commitment to cooperative advertising through the CU Link campaign.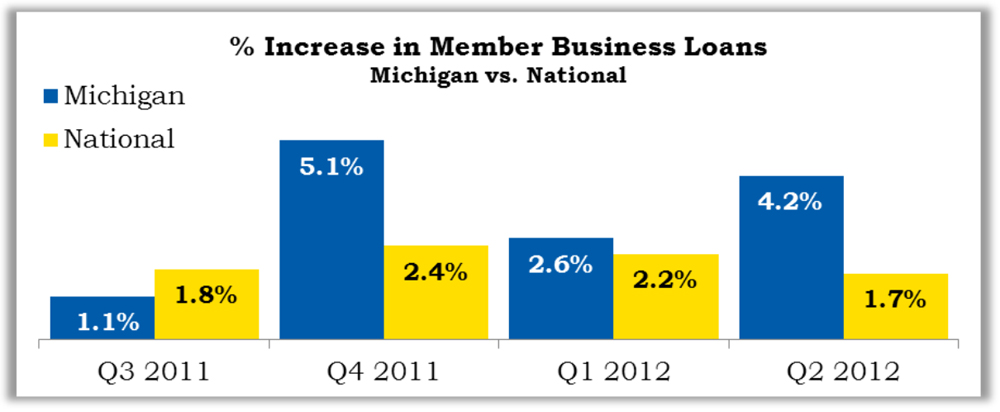 Michigan credit unions are also supporting the economy by supplying much-needed capital to small businesses. The number of Michigan credit unions offering business loans is up 6.8% in the second quarter, with nine new credit unions now offering this service. Forty-six percent of Michigan credit unions now offer business loans compared to 27% nationally. Member business loans increased 4.2% in the second quarter, compared to 1.7% nationally. Over the past 12 months, member business loans increased 13.6% compared to 8.2% nationally. This means that Michigan's credit unions now hold more than $1.1 billion in member business loans serving over 6,400 small businesses. This is another strong example of how credit unions are helping to create and maintain jobs.

According to the SBA, over half of all private sector jobs come from small businesses and 60% to 80% of all new jobs created in the last decade, come from small businesses. Credit unions are proud to be fueling that growth that is so vital to our nation's economic vitality.
Michigan credit unions have been and will continue to be well ahead of the curve when it comes to supporting their communities and the small businesses that play such a large role in them.
Right now an arbitrary cap on credit union member business lending threatens to limit the critical access to capital that will help the economy recover and grow, and MCUL is joined by both of Michigan's U.S. senators and nine of the state's 15 representatives in support of the bill – which is S. 2231, the Credit Union Small Jobs Bill in the Senate and Small Business Lending Enhancement Act, H.R. 1418 in the House – which would raise that cap. That legislation remains before the U.S. Senate. We continue to be hopeful that Senate Majority Leader Harry Reid will bring S. 2231 to a vote soon. If we get that vote, we believe we will win it.
In the meantime, Michigan credit unions continue to find new ways to support small businesses. After nearly a year of advocacy efforts by MCUL & Affiliates on behalf of Michigan credit unions, the Michigan Commissioner of Financial and Insurance Regulation signed an order last month authorizing CUSOs to provide small business equity investments to Michigan credit unions and their members.
This unprecedented opportunity for credit unions has tremendous potential and is further evidence of our commitment to supporting small businesses and contributing to the economic turnaround. In the coming months, we'll convene a group of credit union leaders to help us thresh out a business model for helping to direct this capital to small businesses in Michigan. Coupled with our commitment to small business loans, credit unions will have many tools available to serve small businesses, thereby creating jobs and helping to move Michigan's economy forward.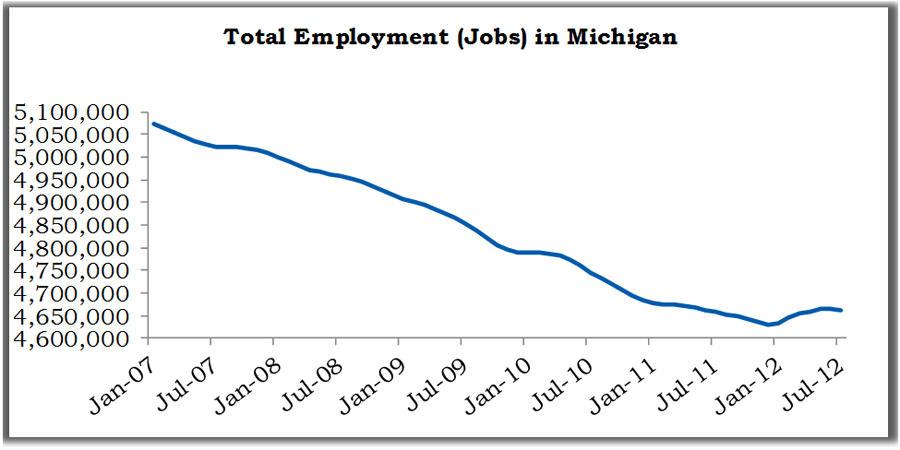 While Michigan credit unions continue to support job creation in the state, there is still much work to do. Last quarter, I reported that April's 8.3 percent unemployment rate for Michigan was the lowest since August 2008. I also reported that even though there were still 455,000 fewer Michiganders employed compared to December 2006 - employment had increased for nine straight months. Both of these measures have taken a step back in the most recent quarter as the Bureau of Labor Statistics currently projects Michigan's unemployment rate to be back up around 9 percent in July. The nine straight months of employment gains also appears to have ended in April with May, June, and July all showing a decrease in employment summing to a total loss of about 30,000 jobs.

This data reinforces, yet again, the vital importance of job creation and the role that credit unions must play in Michigan and in the U.S.
Despite this news on jobs, there are still many other measures that the economy is improving. Many of these measures are found in the call report data. There were three additional highlights from second quarter call report data that are worth noting and point to an improving economy:
First, the number of members that Michigan credit unions report as having filed for bankruptcy as of the second quarter is 17% lower than this time last year, and 35% lower than two years ago.
Second, compared to one year ago, the percentage of loans written off by credit unions has decreased by 19%, down to 0.8% of all loans. This is down from the March 2010 high of 1.19% and continues to approach pre-recession levels.
Third, Michigan credit unions originated 69% more first mortgages in the first six months of 2012 compared to the first six months of 2011. This speaks well to both low interest rate refinancing and the continued recovery of the state's housing market.
So, credit unions are stronger than ever and even more able to lend to both consumers and small businesses.
While many leading economic indicators have been mixed recently, there was good news in auto sales in August. Bloomberg reports that incentives helped to give a sizable 2.8 percent monthly boost to vehicle sales in August. Sales for the month are an annualized 14.5 million units which matches February as the best rate of the year. August's gain is centered in domestic cars and domestic trucks where strength offsets slight monthly weakness on the import side.
And so, as goes the auto industry, so goes Michigan's economy. That is why the MCUL are so committed to the expansion of the Invest in America program. With our colleagues in other states, we are fueling approximately 100,000 car and truck sales for GM every year, and Michigan's credit unions are at the forefront of that effort. As we redouble that commitment, we're hoping to add back a Chrysler incentive very soon as well as finding other ways to support great companies like Sprint, Intuit, Dell and Liberty Mutual.
Also according to Bloomberg; The University of Michigan Consumer Sentiment report showed less weakness than the other reports. The consumer sentiment index rose 0.7 from mid-month to close August at 74.3. This is up a solid two full points from the final July reading. Importantly, the gain is spread evenly between the first half of the month and the second half which points to a steady slope of improvement going into September. The gain is, however, concentrated entirely in the assessment of current conditions which is at 88.7 vs 87.6 at mid-month and 82.7 for July. This rise hints at solid monthly results for general August data including consumer spending and employment. Expectations, the other component of the headline index, did rise 0.6 in the second half of the month, to 65.1 compared to 64.5, but are down slightly from July's 65.6. Other consumer measurements, including the Conference Board's consumer confidence report and the Bloomberg consumer comfort index, also show a lack of confidence in the outlook. Part of this lack of confidence is tied to the prospect of rising gasoline prices, which look to reduce income and reduce discretionary spending power. Inflation expectations in this report are at 3.6 percent for the one-year outlook, unchanged from mid-month but up 0.6 from July, and at three percent for the five-year outlook, also unchanged from mid-month but up 0.3 from July. So, sorting through that data, most economists would suggest that the economic recovery is slogging along very gradually. There is some good news in Michigan and in the U.S. with regard to employment, consumer confidence, housing and low inflation. However, credit unions need to continue to look for ways to innovate and take risk in ways that will provide capital for small businesses and consumers and encourage more saving.
The critical role played by credit unions in Michigan's economy can also be accentuated with the important data that shows that credit unions are also job creators themselves. With more than 13,000 jobs in Michigan and more than 256,000 in the U.S. credit unions are a stable and growing force for opportunity both as employers and as service providers.
Thanks to our credit union community for all that you do for your members, your communities and for the great state of Michigan.
View the "Michigan Priority Report" on CUBE TV for a video summary of MCUL & Affiliates CEO David Adams' September Priority Report introduction.