Governor Thanks Credit Unions for Support of Skilled Trades Initiative (Misc News: June 6, 2014)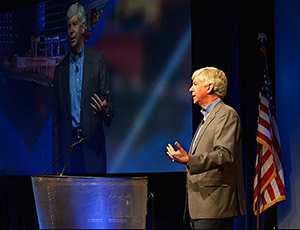 Gov. Rick Snyder says encouraging more Michigan young people to explore careers in skilled trades is a "top priority."
GRAND RAPIDS – Michigan is coming back after a long decline, but Gov. Rick Snyder said now the state needs workers to fill good-paying skilled trade jobs, positions that many companies are having trouble filling right now. See what he had to say about what needs to be done.
Speaking at MCUL & Affiliates' Annual Convention and Exposition in Grand Rapids, Snyder said that encouraging more young people to explore careers in skilled trades is a "top priority." He thanked MCUL for its support of the effort, referring to new Career and Technical Training materials for students that MCUL unveiled to credit unions this week.
"We have thousands of open jobs and still too much unemployment, and it's really getting people career-connected and the skilled trades is the best place to look," Snyder said.
The problem, Snyder said, goes back decades. Most kids were told a four-year degree was the only way to a bright future. In-demand well-paid careers that don't require a traditional university degree weren't part of the conversation.
"That was the mistake we made 20 years ago or so," Snyder said. "I want Michigan to be the leader in emphasizing both tracks."
That's where MCUL & Affiliates Career and Technical training guide comes in. It outlines in-demand well-paying Michigan industries that don't typically require a university education. Snyder says part of focusing on these industries is re-imagining what a skilled trade means.
The initiative is a partnership between MCUL & Affiliates, U.S. Rep. Dan Benishek and the state Workforce Development Agency.
To learn more, visit www.mcul.org/careers.