It is Time to Go to the AC&E in Grand Rapids (Misc News: June 3, 2014)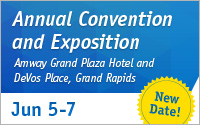 Pack your bags and get your colleagues in the carpool, because it is time for the road trip to Grand Rapids for the MCUL & Affiliates 2014 Annual Convention and Exposition.
What should you know before you go? Check out the online video that will walk you through key things that will help make arriving and enjoying the AC&E a great experience.
Registrants should have already received confirmation information and are encouraged to log in to the registration system to customize and print a personalized event itinerary. Still need to register or purchase tickets? No problem. Just stop by the Information Desk on the second floor, center concourse of the Amway Grand Plaza Hotel for assistance once you arrive.
Driving and parking directions are available on the AC&E website, along with a link to the Michigan Department of Transportation to monitor road construction and traffic.
A few things every attendee is encouraged to bring include comfortable walking shoes and a light sweater or jacket. The AC&E conference app for Apple and Android devices has been updated (see separate story). The TED Cafe located in the Attendee Lounge will be a great place for mobile device users to stop by and download inspirational presentations on the go.
The facilities floor plans are available on the AC&E website for those who want to familiarize themselves with the Amway Grand Plaza Hotel and DeVos Place layout, and plenty of onsite information, signage and staff assistance will make navigating the conference easy.
Once at the event, registrants will be issued a conference badge and any tickets that may have been purchased; be sure to remember these items when you start each day, as they are required for entrance into all conference activities, including the Welcome Reception taking place offsite at the Grand Rapids Public Museum.
It is going to be a great conference packed full of information, networking and fun, and the MCUL staff is ready to welcome you to this year's AC&E in beautiful downtown Grand Rapids.