Hike the Hill Day Two: Five Members of Congress Sign RBC Letter (Misc News: May 8, 2014)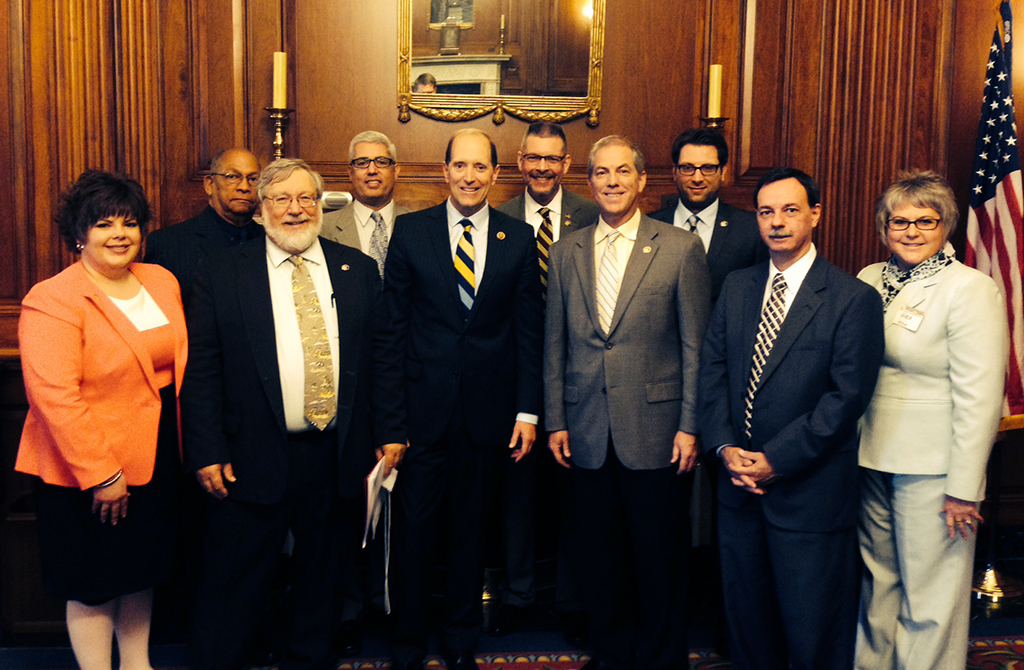 U.S. Rep. Dave Camp, R-Midland, meets with Michigan credit union leaders during Hike the Hill.
WASHINGTON – All three of Michigan's members of the House Financial Services Committee – along with three other Michigan members of Congress – agreed to sign a letter about the harm the NCUA's Risk Based Capital proposal could have on the economy.

During Hike the Hill meetings, U.S. Reps. Bill Huizenga, Dan Kildee and Gary Peters, all members of House Financial Services, agreed to sign a letter to the NCUA expressing concern about the Risk Based Capital proposal. The proposal would require credit unions to hold higher capital ratios. Reps. John Conyers, Kerry Bentivolio and Dan Benishek also agreed to sign the letter.

The members of MCUL & Affiliates' Hike the Hill contingent also met with Rep. Dave Camp, R-Midland, and thanked him for his work in protecting the credit union tax exemption. Camp, chairman of the chief tax-writing committee in the House, issued a draft tax proposal that left the credit union tax exemption intact.

Conyers told Michigan's credit union representatives that he appreciated their regular contact with his office and him personally. He said that he loves credit unions and appreciated their "stepping up for small business when Michigan was on the ropes."

Kildee sought credit unions' input on several bills in markup that day. MCUL is working with him on an amendment to help credit unions have their mortgage loans automatically convert to qualified mortgages if they are in portfolio for at least three years. Kildee asked for credit unions' help in crafting the amendment to protect credit unions but also ensure that big Wall Street banks can't use the authority to harm consumers.

The group also met with Maureen Moody and Seth Hanlon, aides to Sen. Debbie Stabenow, where they discussed a wide variety of issues including CFPB, regulatory relief and retailer data breaches. They expressed their thanks to the senator for her strong support of credit unions and the tax exemption.

Benishek told credit union leaders that he is very interested in supporting regulatory relief measures.