Hike the Hill Day One: FinCEN Deputy - CUs Should Reach Out to Us (Misc News: May 7, 2014)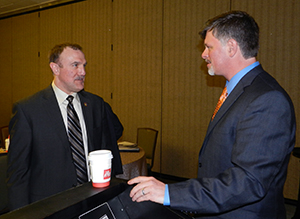 Tony Carnovan, president/CEO of Co-op Services CU, talks to FinCen Deputy Director Frederick.

WASHINGTON – FinCEN wants institutions to contact them if they need help solving issues with security, regulations related to marijuana and bitcoin.
Frederick Reynolds, deputy director of the Financial Crimes Enforcement Network, said the network's goal is not to "cause massive amounts of work or tie people in knots."
Speaking to a group of Michigan credit union leaders in Washington for Hike the Hill, Reynolds also addressed numerous issues including payday lenders, Bank Secrecy Act and Medicare/Medicaid fraud prevention.
Reynolds said the agency has tried to strike a balance between transparency and crime prevention.
Laws and rules regarding marijuana rules have been cause for concern as states legalize some aspects of marijuana distribution and use. Michigan is among several states that have legalized marijuana for medicinal purposes, but two states, Colorado and Washington, have legalized marijuana for recreational use as well.
Problems arise for financial institutions when legal businesses serving the marijuana market want to open bank and credit union accounts. The question is how can a credit union open a business account for a company that violates federal law and many state laws?
Reynolds said credit unions should do their due diligence if want to offer banking services to a marijuana dispensary. He added that the guidance provides red flags.
Reynolds said FinCen has contributed greatly to federal prosecutions using BSA data. He said more than 70 percent of all federal prosecutions use BSA data and the rate is even higher for terror cases.
Bitcoin, the emerging web-based virtual currency is still small, but growing in importance. He said that last year bitcoin had $8 billion in transactions, compared to $81 billion transacted by Western Union, $141 billion by PayPal and $244 billion by Bank of America.
He said the network is treating bitcoin and hundreds of other emerging virtual currencies as a money service business.
Reynolds closed by inviting credit unions to contact the network if it ever has any questions. Contact FinCEN at (800) 767-2825 or Frc@fincen.gov.