MCUL & Affiliates Partners with Gov. Snyder to Teach Money Management to Kids (Misc News: April 8, 2014)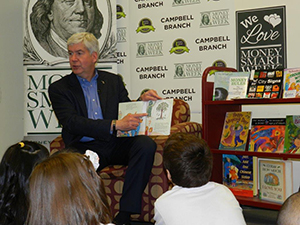 Gov. Rick Snyder reads The Berenstain Bears' Trouble with Money at the Detroit Public Library Campbell Branch.
DETROIT – Gov. Rick Snyder served as a guest reader at a Money Smart Kids Read event at the Detroit Public Library Campbell Branch, bringing to life the financial education book The Berenstain Bears' Trouble With Money to an audience of children and their families.
MCUL & Affiliates partnered with Money Smart Week by donating 3,300 copies of the children's book to Michigan libraries. Credit unions across the state are partnering with the Federal Reserve on Money Smart Week in an effort to support the industry's year-long commitment to financial literacy. Village Community CU was on hand to support the cause, while another member credit union, Vibe CU participated in a similar story time at Berkley Public Library. Besides sharing the children's tale of the merits of earning and saving, Snyder shared his top financial advice.
"Do you have a budget today? Do you know how to manage your money?" Snyder asked. "Are you paying down your credit card so you're not rolling up credit card debt? Do you understand how your mortgage works and are you making that a priority?"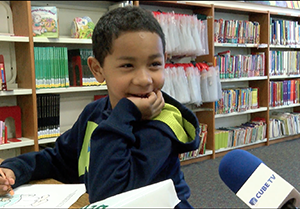 Alba Gonzalez is starting at an early age to teach her son, Josue Green, the importance of managing his money
The importance of stressing financial competency was echoed by Ken Ross, MCUL executive vice president and COO.
"Money Smart Week is a great time to take a step back from the day to day and to really focus on developing those skills that are necessary to use your money wisely in order to be a successful consumer," Ross said.
Alba Gonzalez knows that's true. She's starting early to ensure her son Josue Green, 7, knows how to keep a checkbook. She brought him to Snyder's story time, but way before Josue learned about money from the state's top leader, he was saving his pennies.
"Actually, for my son, he has his own piggy bank at the house," she said. "When he gets his allowance… I teach him, you know, put a little bit aside, and put it in your bank. So sometimes he wants to grab the money, and then I kind of like try to teach him, no, that's savings."
So far it's working. Josue saved up to contribute to buying his own bike.
"He was saying, 'I bought my own bike, I bought my own bike!' " Gonzalez said.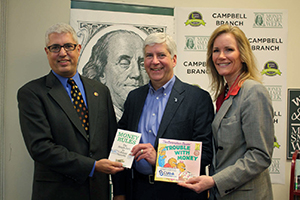 Ken Ross, left, MCUL & Affiliates executive vice president and COO, and Kelly Masters, Money Smart Week Michigan chairwoman, stand with Gov. Rick Snyder.
Josue might be a kid after the governor's own heart. He's already following Snyder's top financial tip.
"Make sure you have a budget," Snyder said. "Actually know how much is coming in and how much is going out. And if they don't match, you've got a problem. It's really that simple.".
The reading event was one of more than 100 story-time programs taking place across the state from April 5-12 as part of the annual Money Smart Week, a nationwide program that promotes financial literacy to consumers of all ages, according to a story on the governor's website.
In addition to story time events for children, Money Smart Week features more than 300 programs in 35 counties throughout the state. The various classes, seminars and events feature programing for all ages with topics ranging from saving for college, budgeting, and avoiding scams to investor education, retirement and estate planning.
More information about Money Smart Week, including a calendar of events, is available at www.moneysmartweek.org.