Rep. Camp, Chairman of House Ways and Means, Announces Retirement (Misc News: April 1, 2014)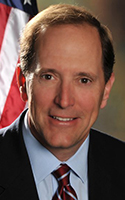 Camp
Just a month after U.S. Rep. Dave Camp introduced his long-awaited tax overhaul proposal, the 12-term congressman has announced that he will not seek reelection.
Camp, R-Midland, a strong supporter of credit unions made certain that his tax proposal did not impact credit unions, and delayed its release until credit union advocates were in Washington for the CUNA GAC.
MCUL & Affiliates CEO David Adams said that with Camp's decision not to run again, credit unions in Michigan and across the nation are losing one of their biggest supporters in Congress.
"Congressman Camp has been a true friend to credit unions, listening to our concerns and fighting for our issues in Congress," Adams said. "As chairman of the House Ways and Means Committee, the chief tax-writing committee in the House, Congressman Camp has been in a position of tremendous influence on Capitol Hill. On support of our federal tax status and a myriad of other issues during his 24 years of service, we have always been able to count on him.
"We thank him, and wish him the best for the future."
Camp is the fourth member of the Michigan congressional delegation to announce that he is not seeking reelection this year. Sen. Carl Levin, D-Detroit, and Rep. Mike Rogers, R-Brighton, and Rep. John Dingell, D-Deaborn, have also announced their retirements from Congress.
"Serving in Congress is the great honor of my professional life," Camp, 60, said in a statement. "I am deeply grateful to the people of the 4th Congressional District for placing their trust in me. Over the years, their unwavering support has been a source of strength, purpose and inspiration."
Camp said he will spend the remainder of this 113th Congress on efforts to "grow our economy and expand opportunity for every American by fixing our broken tax code, permanently solving physician payments for seniors, strengthening the social safety net and finding new markets for U.S. goods and services."
Many on Capitol Hill had expected Camp to announce his retirement. At the end of this Congress, Camp would be prohibited from serving another term as chairman of Ways and Means, meaning he would likely go back to the rank and file in the House.
In 2012, Camp was diagnosed with non-Hodgkins large B-cell lymphoma. Doctors declared him cancer-free later that year.