U.S. Rep. John Dingell Says He Won't Run for Reelection (Misc News: February 24, 2014)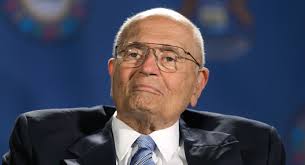 Dingell
U.S. Rep. John Dingell, the longest-serving member of Congress in history, and a longtime friend of credit unions, has announced he won't run for reelection.
"John Dingell has long been a voice for common-sense measures to move the country forward and helping middle-class families gain access to affordable financial services," MCUL & Affiliates CEO David Adams said. "Whether the issue was member business lending or the credit union tax exemption or increasing regulations on payday lenders, Rep. Dingell always had the best interests of consumers at heart."
Dingell, 87, has served in Congress since 1955 when, at the age of 29, he won a special election to serve the remainder of the term of his late father, John Dingell Sr. He was elected to 29 consecutive terms in the House, making him the longest-serving member of Congress.
Dingell has played an important part in many of the landmark pieces of legislation – many of which he helped write – that Congress has passed in the last six decades including the Civil Rights Act, Medicare, Clean Water Act, Clean Air Act, Endangered Species Act and Affordable Care Act.