CUNA GAC Day One: Members of Michigan Delegation Attend Welcome Reception (Misc News: February 24, 2014)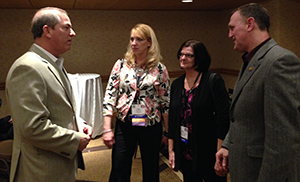 MCUL & Affiliates CEO David Adams, left, talks to Lisa Fawcett of Co-op Services CU, Mary Carnarvon-LaHousse of Unified Communities CU and Tony Carnarvon of Co-op at the CUNA GAC in Washington.
WASHINGTON – The Michigan welcome reception at the Grand Hyatt Washington on Sunday night was well attended by Michigan delegation participants. The comparatively balmy Washington weekend weather was a welcome relief to the Michigan crew, weary from a long winter.
Sunday sessions included an open session on the impacts of the NCUA's yet-to-be issued risk-based capital rule. CUNA leadership and GAC participants have identified a wide variety of ways to improve the proposal. Everyone is gearing up for a vigorous regulatory comment process in which to share specific observations, impacts and concerns over unintended consequences of the proposed rule.
The opening welcome reception was hosted by Mortgage Center and Alloya Corporate FCU.
At least 115 Michigan credit union people were expected to attend the conference. CUNA is expecting a record number of attendees for the GAC with 4,400 registered.
The GAC comes at a critical time as U.S. Rep. David Camp, R-Midland, has said that he will introduce his tax overhaul plan this week.
Several Michigan credit unions, along with MCUL & Affiliates, will also be recognized with national awards at the Herb Wegner Memorial Awards Dinner.
If you're tweeting from or about the GAC, you can use the following hashtags: #CUNAGAC, #UniteforGood, #DontTaxMyCU and #CrashtheGAC14.
And if you're not doing so already, follow these twitter feeds: @CUNA @CUNAadvocacy @NewsNowLiveWire @cumagazine @asmarterchoice.