The 2014 Community Reinvestment Report Now Available (Misc News: February 24, 2014)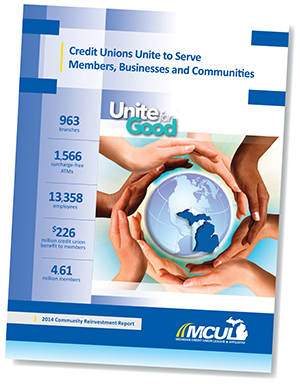 You can now download the 2014 Community Reinvestment Report.
Every year, MCUL & Affiliates produces the report to showcase the great things Michigan credit unions do for communities across the state. Every lawmaker in Washington and Lansing gets a copy of the report to help them understand the impact of Michigan's credit union movement.
This year, the report is particularly important as Congress considers comprehensive federal tax reform. The credit union movement has been working for months to make sure it has the support to continue the long-standing federal tax exemption.
The report includes information about the total value of credit union membership in Michigan and special programs such as Invest in America and Save to Win.
Click here to download the report. If you would like printed copies of the report, contact Bryan Laviolette at (800) 262-6285, ext. 233, or Bryan.Laviolette@mcul.org.