Run a Lapel Pin Campaign in 2014 (Misc News: December 17, 2013)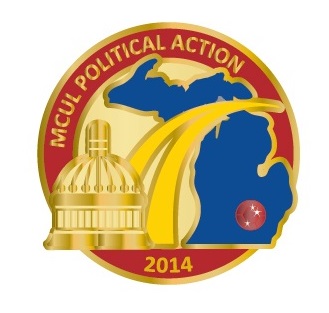 MCULAF Lapel Pins are traditionally one of the most successful fundraisers for the Michigan Credit Union League's state PAC, and efforts are under way to ensure that the tradition continues in 2014. The Lapel Pin program funds MCUL's efforts to support credit union-friendly candidates. With all 110 Michigan House members and all 38 Michigan Senate members up for election this coming November, the importance of a strong state PAC in 2014 is crucial to the credit union industry.
MCULAF Lapel Pins are available at contribution levels of $25 (Capitol Club), $50 (Congressional Club), $100 (Senate Club), $250 (President's Club), $500 (Chairman's Club), and $1,000 (Michigan Club).
In 2014, the MCUL will once again recognize Gold Star Credit Unions, an award that is presented to any credit union that achieves 100 percent participation in the Lapel Pin program while also achieving 100 percent of its MCULAF goal. Click here for detailed information on the Gold Star Program as well as the current year gold star participation form.
Click here to find payroll deduction forms and more information about the MCULAF Lapel Pin program. Click here to purchase pins. Questions regarding the lapel pin program or any other fundraising activity may be directed to MCUL Political Affairs Coordinator Melissa Osborn at (800) 262-6285, ext. 578, or Melissa.Osborn@mcul.org.