Save to Win Gains Exposure with PBS Story (Misc News: November 25, 2013)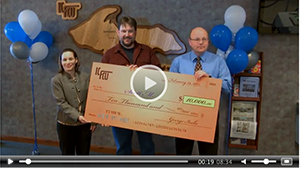 Save to Win was featured Saturday in a national story on the PBS NewsHour, drawing interest from across the country in prize-linked savings accounts.
The story was trending Monday morning on Digg.com. The Save to Win Michigan Facebook page saw several new "likes" over the weekend after the story aired.
One of the main focuses of the story was on a bill in Congress – called the American Savings Promotion Act – that would allow financial institutions to offer prize-linked savings accounts. Many states' laws do not allow prize-linked savings programs such as Save to Win.
One of the bills co-sponsors, U.S. Rep. Derek Kilmer, D-Wash., thinks prize-linked savings is a way to get Americans to start building a nest egg.
"The problem with not saving is you are a crisis away from living in your car or losing your home or having your lights turned off," Kilmer said.
Click here to watch the PBS report.