Complete the 2013 CRI Survey (Misc News: November 5, 2013)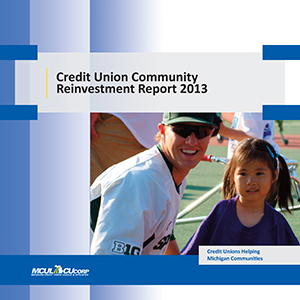 The deadline for completing the Community Reinvestment Initiative Survey has been extended until Friday.
Survey results are used to build the Community Reinvestment Report, which celebrates the often-untold story of how much good credit unions do for their communities each year. From your aggregate donations to Michigan charities to the hours you devote to financial education, this report quantifies the credit union difference.
The CRI Report is distributed to lawmakers annually at the CUNA GAC to promote the credit union tax exemption and other beneficial legislation. Throughout the year, the report facilitates discussions with these lawmakers, community leaders and the media to put proof behind our continual message that credit unions are the best choice. We also encourage you to utilize the report when you are advocating for the credit union difference.
Your input is invaluable in our ability to report the many ways in which credit union membership benefits members and the broader community. The survey will cover several topic areas including financial counseling, financial education and volunteerism/community involvement.


Print out the survey questions in advance and gather the information you need to complete the survey.

Each credit union will access the survey with a unique link. Once you have all of the necessary information, open this file and locate your credit union by name.

Select (or copy/paste) the URL link listed for your credit union to access the online survey for your credit union. Enter your data
Be sure to hit "Submit" at the end of the survey so your responses are recorded.
Need assistance? Contact Beth Troost at (800) 262-6285, ext. 453, or Beth.Troost@mcul.org. Thank you for helping to tell the collective credit union story.