CU Link Invades Traverse City for Iceman Cometh (Misc News: November 4, 2013)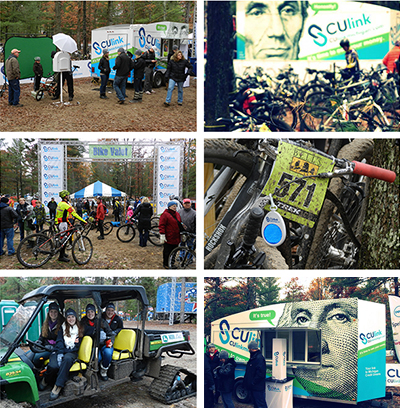 Bottom left: The Traverse City Central softball team worked the bike valet on behalf of Credit Union Link.
TRAVERSE CITY – This year's cooperative advertising effort features a new tactic: the It's Time to Own Your Money mobile tour. The tour kicked off on Saturday at the finish line of the 24th Annual Iceman Cometh Challenge Bike Race in Traverse City.
To support the CU Link cooperative advertising campaign, the tour is designed to engage with Michigan residents face-to-face in a fun and engaging manner, including activities like a photo booth, a cell phone charging station and a water refilling station. The tour will also have a big presence on social media, with a virtual "I'm Saving For …" wall, which will provide a visual snapshot of purchases Michiganders are saving for. Everyone who contributes to the I'm Saving For … wall through the course of the tour will be entered into a contest to win $2,500 to help give one lucky winner a jump start on their savings.
"The one message we want people to hear is that it's time to own your money, and only credit unions allow you to do that," MCUL and Affiliates CEO David Adams said. "This tour is designed to take us outside of our offices and credit union branches to meet people out in their communities and brighten their day. This tour really is a chance for us to connect with people and emphasize our roots as the hometown relationship banking option."
Thousands of riders and fans were able to take bicycle-themed pictures in the CU Link photo booth, park their bikes in the CU Link-sponsored bike valet and charge their cell phones while the Own Your Money team started conversations with them about credit unions and owning their money.
The CU Link logo and URL were represented throughout the event, including on the winner's podium, in the finish line chute, all around the bike valet and in the official photographer's photos for race finishers.
Staff members from TBA CU and Members CU came by and helped out in the booth throughout the day
Other tour stops for 2013 include the MHSAA Football Championship Weekend at Ford Field in Detroit on Nov. 29-30 and Detroit's Noel Night on Dec. 7, as well as surprise visits and giveaways for Black Friday shoppers.
For more pictures from the event, check out the photo stream at CU Link Facebook page.