Itís Not Too Late to Register for Capitol Day on Oct. 29 (Misc News: October 21, 2013)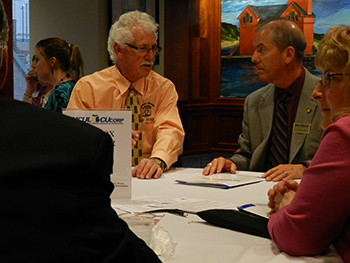 Sen. Darwin Booher, R-Evart, left, talks to MCUL & Affiliates CEO David Adams at the state GAC earlier this year.
It's not too late to register for the 2013 Capitol Day event that will once again be held in Michigan's capital city.
This annual credit union grassroots lobbying event will be Tuesday, Oct. 29, in the Mackinac Room on the fifth floor of the Anderson House Office Building at 124 N. Capitol Ave. in Lansing.

Credit union officials will make the trek to Lansing to meet with their state lawmakers to socialize, discuss legislative issues of concern and increase the visibility of credit unions in Lansing. Capitol Day participants will meet in the Mackinac Room at 10 a.m. for a legislative issues briefing followed by a Legislative Luncheon with lawmakers and their aides who will arrive at 11:30 a.m.


During the luncheon, resolutions in honor of Credit Union Week will be presented. Afterward, members are free work with MCUL Governmental Affairs staff to set up meetings with Senate offices, or head to the Capitol to watch the House session live.

It is important that staff and volunteers representing every MCUL chapter across the state participate in Capitol Day so we can be sure that every lawmaker in attendance has an opportunity to meet with constituents from his or her home district.


Click here to learn more about Capitol Day and to download the registration form. Contact Political Affairs Coordinator Melissa Osborn at Melissa.Osborn@mcul.org or fax to (517) 482-3762 with any questions.