2013 MCULAF/CMN Online Auction Is Open – Let the Bidding Begin (Misc News: October 14, 2013)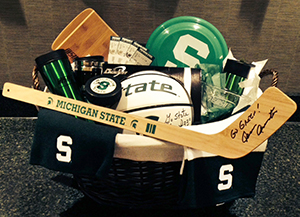 A gift basket featuring a basketball signed by MSU basketball coach Tom Izzo is one of several items featured in the MCULAF auction.
Have fun bidding on some fantastic items while helping to raise funds for the MCUL Action Fund and Children's Miracle Network.
The MCULAF Charity Match Auction is part of the MCUL Charity Match Program, preserving our commitment to CMN while working to elect credit union-friendly candidates. This year's online auction is open for bidding. Credit union leaders from across the state have donated some fantastic items for this year's auction. Some of the items include: $300 Soaring Eagle Casino spa gift card, Detroit Red Wings tickets, Detroit Lions tickets, an MSU/MSUFCU gift basket with a basketball signed by MSU coach Tom Izzo, artwork, gift cards and more cool items.
As the winning bidder in the MCULAF Charity Match Online Auction, you will make your contribution directly to MCULAF (state PAC) and the MCUL & Affiliates will make an equal contribution to CMN. Your contribution will be credited toward your credit union's 2013 MCULAF goal. CU members are also eligible to bid on items.
Click here to view the auction items and website, and to register yourself as a bidder. Contact Political Affairs Coordinator Melissa Osborn at Melissa.Osborn@mcul.org or (800) 262-6285, ext. 578, with any questions.