Last Chance to Join CU Lunch Local (Misc News: October 9, 2013)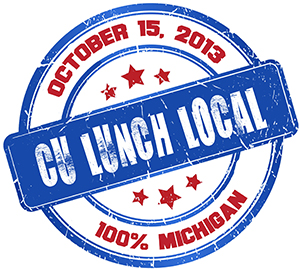 Make your CU Lunch Local reservation now before it's too late. Thursday, Oct. 10, is the deadline to sign up to participate.
So far dozens of credit unions from every corner of the state and every asset size have signed up to take part in this groundbreaking event, so don't miss out. Participation could not be easier: simply commit to buying local on Tuesday, Oct. 15, join the event on Facebook, and then email your plans to Jessica@in-fusiongroup.com. Consider bringing in lunch for your staff from a local restaurant, or providing coffee and donuts from a local cider mill. You could even give your members cookies or other treats from a local bakery on that day, which falls during International Credit Union Week.
Whatever you do, be sure to register your plans and then share them via social media. Take pictures with the pizza delivery man and upload them to the event Facebook page. Show us what you're having for your CU Lunch Local on Twitter and use the hashtag #culunchlocal. "Like" other credit unions' photos and retweet their posts so this event will truly go viral and show the credit union difference.
Don't miss out on this powerful opportunity to show your credit union's support for local businesses.