Amash Offers Statement of Support for Credit Unions (Misc News: September 10, 2013)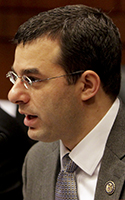 Amash
U.S. Rep. Justin Amash, R-Cascade Township, has released a statement saying he supports credit unions as Congress begins negotiations for tax code reform.
With Amash's statement, every member of the Michigan congressional delegation has issued a statement that either directly supports the credit union tax exemption or expresses general support for the credit union industry.
"I'm not in favor of increasing taxes or imposing unnecessary regulations," Amash said. "Achieving solid economic growth and expanded opportunity for all Americans means reducing government's burdens on the institutions that serve them. Financial entities like credit unions provide important services like being reliable places to deposit money and helping individuals and families afford the necessities of life."
MCUL & Affiliates CEO David Adams thanked Amash for his support.
"This very strong statement from Congressman Amash reinforces the high level of bi-partisan support that credit unions and their members have within the Michigan congressional delegation," Adams said. "We now have unanimous support from all 14 members of the House delegation as well as from our two U.S. senators. The credit union community should let all Michigan lawmakers know how much we appreciate their support as broad-based tax reform continues with this Congress."
Adams thanked the Battle Creek Chapter for hosting a meeting with Amash at Kellogg Community FCU.
"This kind of grassroots advocacy is responsible for the unanimous support from our delegation in Michigan," Adams said.
While all of the credit union movement's current federal legislative issues were discussed, credit union leaders spent the majority of the time discussing the importance of the credit union tax exemption and the challenges faced with the new regulatory requirements.
Representatives from Kellogg Community FCU, United Educational CU, OMNI Community CU, Marshall Community CU, and Lake Trust CU communicated the need to support the credit union tax exemption and regulatory relief. Sixteen credit union leaders participated in the discussion.