Conyers Announces Support for Tax Exemption (Misc News: August 27, 2013)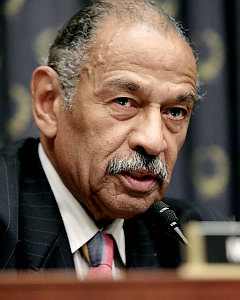 Conyers
Rep. John Conyers has joined a majority of the Michigan congressional delegation in offering a statement of support for the federal credit union tax exemption.
"Credit unions provide a sound, reliable financial home for millions of Michiganders seeking access to credit and a place to build their future," Conyers said. "In addition to serving traditional borrowers, credit unions have been particularly successful at reaching out to underbanked individuals who are not served by the traditional commercial banking industry. In light of this track record of success, I strongly believe that current tax policies that have allowed credit unions to thrive should remain in place."
MCUL & Affiliates CEO David Adams said Conyers appreciates credit unions' service to those who have been left out of the traditional banking sector.
"Congressman Conyers has a longstanding and well-deserved reputation for standing up for people of modest means, for the unbanked and the underbanked," Adams said. "Credit unions excel at serving individuals and households of all income levels. The importance of Mr. Conyers' statement of support is that he reminds the public that credit unions serve an important niche that needs to be protected. Preserving the credit union tax-exempt status is one important means toward that end."
With Conyers' statement, 12 members of Michigan's 16-member congressional delegation have offered statements of support for credit unions' tax exemption. MCUL & Affiliates has received statements of support from Democratic Sens. Debbie Stabenow and Carl Levin. In the House, the league has received statements of support from Democrats Dan Kildee, Gary Peters, Sander Levin and John Dingell and Republicans David Camp, Dan Benishek, Mike Rogers, Tim Walberg and Kerry Bentivolio.