Sen. Levin Offers Strong Support of Tax Exemption (Misc News: August 19, 2013)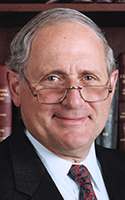 Levin

Sen. Carl Levin is the latest member of the Michigan congressional delegation to issue a statement supporting the federal tax exemption for credit unions.
Levin, D-Detroit, is the 10h Michigan member of Congress – out of 16 total – to offer a statement supporting credit unions.
"I continue to support the work of service-oriented, not-for-profit, member-owned credit unions and their tax exempt status," Levin said.
Levin went on to say that he wants to see loopholes that big corporations use to pay less taxes closed and to add more revenue, but he doesn't think raising taxes on credit unions is the way to do it.
"Tax reform efforts should not undermine our economy, or remove useful exemptions such as the tax exemption for credit unions," Levin said.
MCUL & Affiliates CEO David Adams thanked Levin for his strong statement supporting credit unions.
"Credit unions could not have a stronger advocate than Michigan's senior senator, Senate Armed Services Committee Chairman Carl Levin," Adams said. "Carl Levin again shows steadfast support for economic fairness by encouraging the continuation of the credit union tax exempt status.
"The nation's 96 million credit union members should be appreciative of this statement of support from such an influential leader in our nation's capital."
Besides Levin, MCUL has received statements of support from fellow Democratic Sen. Debbie Stabenow as well as House Democrats Dan Kildee, John Dingell, Sander Levin and Gary Peters. House Republicans who have issued support statements include Dave Camp, Mike Rogers, Tim Walberg and Kerry Bentivolio.