Former OFIR Commissioner Ross Rejoins MCUL & Affiliates (Misc News: August 15, 2013)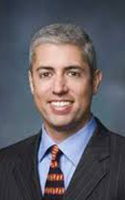 Ross
Ken Ross, the former head of the state regulatory body governing credit unions, has rejoined MCUL & Affiliates as executive vice president and COO of the association.
Ross served as vice president of regulatory and legal affairs in his previous tenure at MCUL. After leaving the league, Ross was commissioner of the former Office of Financial and Insurance Regulation. Recently, OFIR became a separate department, now known as the Department of Insurance and Financial Services.
Most recently, Ross was assistant general counsel at Citizens Bank.
"Ken brings a wealth of experience from his years of service previously with the league and as OFIR commissioner," MCUL & Affiliates CEO David Adams said. "His knowledge of the inner workings of the state Capitol will be a critical in this period of unprecedented regulatory change for credit unions."