Add Walberg to List of Credit Union Tax Exemption Supporters (Misc News: August 12, 2013)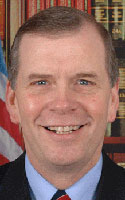 Walberg
Rep. Tim Walberg, R-Tipton, has added his name to the list of supporters of the federal credit union tax exemption among Michigan's Congressional delegation.

"Rep. Walberg strongly supports maintaining the exemption," a Walberg spokesman said.

"Michigan credit unions thank Rep. Walberg for his support of the nation's credit unions," MCUL & Affiliates CEO David Adams said. "He has long understood that credit unions offer real benefits to their members."

With Walberg, there are now eight Michigan members of Congress who have announced their support of the federal credit union tax exemption. They are Democrats John Dingell, Sander Levin, Gary Peters and Dan Kildee and Republicans Kerry Bentivolio and Mike Rogers. In the upper chamber, Sen. Debbie Stabenow has offered her support for the tax exemption.