Ranking Member of House Ways and Means Committee, Rep. Sander Levin, Says He Supports Credit Union Tax Exemption (Misc News: July 31, 2013)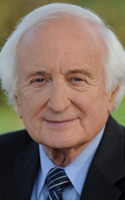 Sander Levin
The ranking member on the U.S. House Ways and Means Committee, Rep. Sander Levin, has weighed in with his support of the credit union tax exemption.
"I have long supported credit unions and the critical role they play in our communities," said Levin, D-Royal Oak. "Throughout the financial crisis, credit unions increased lending because of their cooperative membership structure – providing a needed lifeline to individuals and small businesses that other lenders and financial institutions could not. I am committed to a thoughtful reform of our nation's tax code that ensures important policies, like the credit union tax exemption, continue to serve the best interest of the American taxpayer."
MCUL & Affiliates' CEO David Adams said Levin's support is critical since he is the ranking Democrat on the House tax-writing committee.
As the immediate past chairman of the House Ways and Means committee and now as ranking Democrat on the committee, Mr. Levin's strong position will carry significant weight with his colleagues, both Democrats and Republicans."
"MCUL thanks Congressman Levin for his continued support of credit unions and the federal tax exemption," Adams said. "Rep. Levin knows that credit unions make a difference in the lives of millions of middle-class Americans and small businesses."
Levin is the fourth Michigan congressman to issue a statement of support for the credit union tax exemption in three days. Also announcing support for the credit unions' tax-exempt status were Democrats Dan Kildee and Gary Peters and Republican Mike Rogers.