U.S. Rep. Gary Peters Announces Support of Credit Union Tax Exemption (Misc News: July 31, 2013)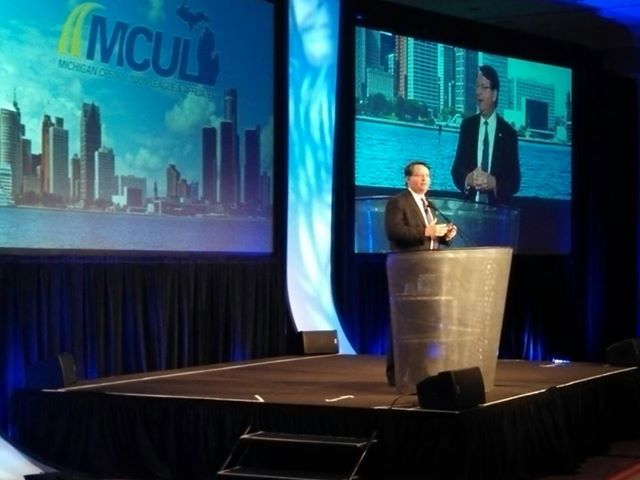 U.S. Rep. Gary Peters, D-Bloomfield Hills, speaks at the MCUL & Affilistes' AC&E.
U.S. Rep. Gary Peters has added his name to the list of Michigan congressmen who support the credit union tax exemption.
"I completely support the tax exempt status of credit unions," said Peters, D-Bloomfield Hills. "Credit unions are member-owned. It's about helping our middle class families who are part of credit unions all across the state. The savings that are realized are passed directly to millions of members in Michigan.
"Credit unions help people access financial services in a cost-effective way every day. Because of this, I will continue to support credit unions and their tax status."
MCUL & Affiliates CEO David Adams said credit unions are thankful for Peters' long-running support.
"The MCUL appreciates Gary Peters' continued strong support for the CU tax exemption," Adams said. "Michigan is fortunate to have Peters representing the shared values of credit unions, middle-class families and small businesses."
In May, the league endorsed Peters who is running for U.S. Senate, becoming the first trade association in the state to endorse a candidate in the race to replace Sen. Carl Levin.
Peters, a member of the critical House Financial Services Committee, accepted the nomination in a speech at MCUL's Annual Convention and Exposition in Detroit.
"Clear and unequivocal support on our major issues is what earned him the MCUL endorsement for his bid for the U.S. Senate," Adams said.
Peters is the third member of the Michigan congressional delegation to issue a statement supporting the credit union tax exemption, joining fellow Democrat Dan Kildee of Flint and Republican Mike Rogers of Brighton.