Stabenow Issues Statement Supporting CU Tax Exemption (Misc News: June 21, 2013)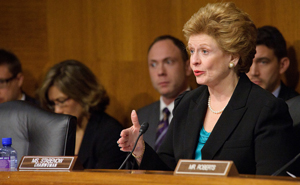 U.S. Sen. Debbie Stabenow issued a strong statement supporting the federal credit union tax exemption.
Count U.S. Sen. Debbie Stabenow among those in Congress who support the federal credit union tax exemption.
Stabenow, D-Lansing, has long been a credit union champion in Congress and her statement reaffirms that position.
"As a credit union member, I know first-hand how important credit unions' services are to people in Michigan and across the country," Stabenow said in a statement to MCUL & Affiliates. "That is why I am committed to preserving credit unions' traditional status as tax-exempt, not-for-profit, community-based organizations."
MCUL & Affiliates CEO David Adams thanked Stabenow for her strong support of credit unions.
"Once again, Sen. Debbie Stabenow has shown her keen understanding of a tax policy that has benefitted American households for decades," Adams said. "As a member of the Senate Finance Committee that deals directly with tax reform in the Senate, our Michigan senator appears ready to take on the big bank lobbyists as they try to take away the consumer benefits of credit unions. Our country is fortunate to have a lawmaker who stands up for credit unions when they are under attack from bankers who, in an obviously self-serving way, lobby for the repeal of the credit union tax exemption."
Congress is working on possible revisions to the tax code, saying that it is starting from a blank sheet of paper, meaning any federal tax break could be eliminated.
Stabenow said that Congress has difficult work ahead to reform the tax code, but the credit union tax exemption is one tax break that must stay.
"As we look at how to reform the tax code, outdated or inefficient tax provisions must go. But tax provisions that are working well and benefitting middle-class families must be maintained," Stabenow said. "One such provision that I will work to preserve in tax reform is the credit union exemption, which ensures that community-based institutions can continue to provide quality financial services to their members.
"I believe there is solid support for preserving the exemption among my colleagues on the committee and in Congress, thanks in no small part to how engaged credit union members and leadership are in ongoing policy debates. Credit unions and credit union members should continue to stay engaged with their members of Congress to highlight the services and economic growth they provide."