CU Leaders Talk Tax Status/Reg Relief on Capitol Hill (Misc News: June 5, 2013)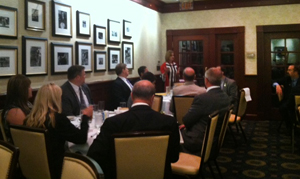 Credit union leaders listen to NCUA Chair Debbie Matz during the annual Hike the Hill in Washington.
WASHINGTON – Credit union leaders from throughout Michigan wrapped up two days of Hike the Hill visits by meeting with members and staff from both of Michigan's Senate offices and the state's 11 U.S. House offices.
On the second day of Hike the Hill fly-in, key meetings included in-person discussions with Ways and Means Committee Chairman Dave Camp and Ranking member Sander Levin. Several of the state's U.S. House members agreed to cosponsor two MCUL- and CUNA-backed reg relief bills which would amend recently issued qualified mortgage and privacy notice regulations. Support for raising the MBL cap on credit unions also continues to build with the current House version boasting more than 100 current cosponsors.

Credit union leaders discussed the challenge in complying with so many new federal regulations. Several of the recently issued CFPB regs will severely restrict the ability of credit unions to offer products and services to members. The MCUL mentioned that changes to mortgage servicing regulations will likely force many small-asset-size credit unions to outsource in-house mortgage operations to a CUSO and many credit unions recently mentioned they will no longer offer international remittance transfers due to increasing compliance and cost concerns.
Michigan's three members of the House Financial Services Committee (Reps. Bill Huizenga, Gary Peters, and Dan Kildee) were interested in how they could help with regulatory relief for credit unions. The league mentioned their cosponsor support of current reg relief bills was a place to start, and the MCUL will continue to identify specific issues that could addressed this session by legislation.
Support for the CU tax exemption was communicated by a large majority of Michigan's congressional delegation. Many members provided or committed to provide public statements in support of the credit union tax exemption. Lawmakers frequently referenced how credit unions stepped in big during the recent economic downturn while other lenders fled the marketplace. Compliments were also provided to Michigan credit unions for increasing auto loans in 2008-10 through the Invest in America program.
On the first day of the event, the league and credit union leaders raised issues with the NCUA regarding the Financial Accounting Standards Board proposal and member business lending waivers as the league's Hike the Hill event opened.
The day's events kicked off with a lunch meeting with NCUA Chair Debbie Matz. Matz discussed a variety of current topics with attendees, including her current role with the Federal Financial Institutions Examination Council and the agency's recent interaction with the CFPB. Regulatory proposals discussed included the controversial Financial Accounting Standards Board proposal, where Matz shared a recent letter she wrote to FASB highlighting her concern regarding the impact on small-asset-size credit unions.
MCUL & Affiliates CEO David Adams said the FASB proposal could negatively impact credit union capital.
The FASB proposal could force credit unions to significantly increase their Allowance for Loan and Lease Losses, possibly creating the perception that there are additional new risks and troubled conditions without an actual change to the credit unions safety and soundness.
Participants - including 27 Michigan credit union people along with three from the league - also discussed issues related to MBL waivers. NCUA officials said credit unions may qualify for MBL blanket waivers in certain situations. Steve Bosack, Matz's chief of staff, and Buddy Gill, senior strategic communications and external relations advisor to Matz, also participated in the discussion.
Participants then headed to CUNA's Washington headquarters for a legislative update from Jeremy Dalpiaz, senior legislative representative and a Michigan native, and Trey Hawkins, vice president of political affairs. The top issues discussed included the CU tax exemption, member business lending, GSE reform and regulatory relief. Participants had the opportunity to ask questions on legislative issues and the national "Don't Tax our Credit Union'" campaign.
Several participants then headed to Capitol Hill for meetings with the offices of Reps. Kerry Bentivolio and Justin Amash. The day's events concluded with a networking reception at the CU House on Capitol Hill where participants enjoyed MCUL-sponsored refreshments and had the opportunity to talk with several members of CUNA's grassroots and legislative team.