Lake Michigan CU and HGTV Host Carter Oosterhouse Dedicate Holland Playground (Misc News: May 22, 2013)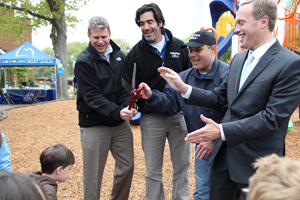 U.S. Rep. Bill Huizenga, left, R-Zeeland, TV personality Carter Oosterhouse, Jeremiah Kossen from Lake Michigan CU and Holland Mayor Kurt Dykstra cut the ribbon opening a new playground at Holland's Windmill Island.
Lake Michigan CU, in partnership with TV host Carter Oosterhouse, announced the dedication of a new playground at Holland's Windmill Island. The playground was officially dedicated with a ribbon-cutting ceremony on May 11.
Funded by LMCU, and built by LMCU employees, the new playground serves west Michigan youths as part of Windmill Island in Holland. Congressman Bill Huizenga, R-Zeeland, and Holland Mayor Kurt Dykstra took part in the dedication ceremonies. The project was initiated by Oosterhouse's charitable foundation, Carter's Kids, which aims to create and promote awareness of fitness and self-esteem for America's youth.
"Partnering with Carter's Kids and the City of Holland allowed LMCU staff to come together and build a great recreational space for thousands of west Michigan children that will benefit them for many years to come," said Jeremiah Kossen, LMCU vice president of operations. "Carter's Kids and LMCU are aligned in our commitment to bettering the communities we serve."
Rep. Huizenga has a long history of supporting credit union endeavors and has shown his support for the industry in many ways, including cosponsoring legislation to raise the cap on credit union member business lending.
"We're thrilled to have our local leaders like Congressman Huizenga on hand for this event," Kossen said. "It's further proof of his commitment to the community that we serve as a credit union and that he represents in Congress."
LMCU and Oosterhouse recently entered into a partnership in which Oosterhouse acts as the new "face" of LMCU for marketing. Oosterhouse is nationally recognized for his work on a number of cable TV programs dealing with home renovation, design and community outreach. He is a Traverse City native, and a Lake Michigan CU member with a home mortgage financed by LMCU.