CU Leaders Inspired by Great Ideas at AC&E (Misc News: May 21, 2013)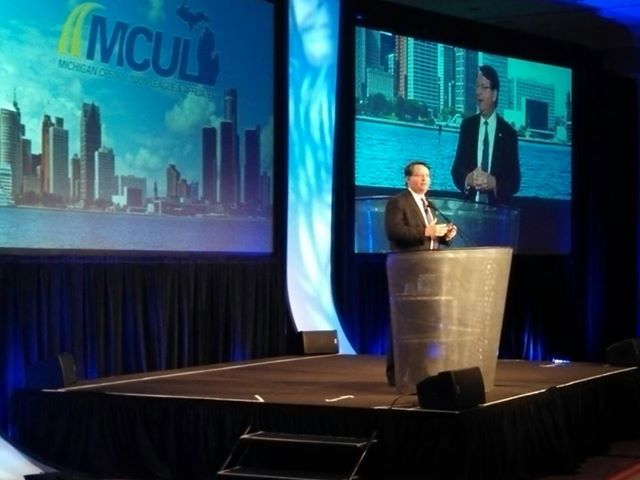 U.S. Rep. Gary Peters speaks at the AC&E. Peters thanked MCUL & Affiliates for endorsing him for U.S. Senate.
DETROIT – U.S. Rep. Gary Peters thanked the Michigan credit union community for its endorsement of him for U.S. Senate, but also thanked them for something even more important.
He said that during the darkest days for the auto industry in 2009, it was the credit union industry that kept financing new car purchases while the banks stood on the sidelines.
"The credit unions said 'We will lend for cars,' " Peters said. "You stepped up when your country needed you and you made those loans."
Speaking at MCUL & Affiliates Annual Convention and Exposition, Peters added that he thinks credit unions should have the authority to make more loans to small businesses.
"Credit unions should be able to make those loans. We need to raise that cap," he said. Peters is one of the original cosponsors of this year's version of the bill that would raise the cap on member business lending.
Speaking before Peters at the AC&E on Saturday, John Kolhoff, head of the credit union division for the Department of Insurance and Financial Institutions, called on the credit union industry to continue its grassroots efforts to help influence legislative and regulatory changes at the federal and state levels. Attending the state and federal GAC and Hike the Hill events and sending letters can make a difference.
Also on Saturday, motivational speaker Steve Gilliland said passion is the key to success.
"Any person in this room can change the lives of millions – if they believe it," Gilliland said.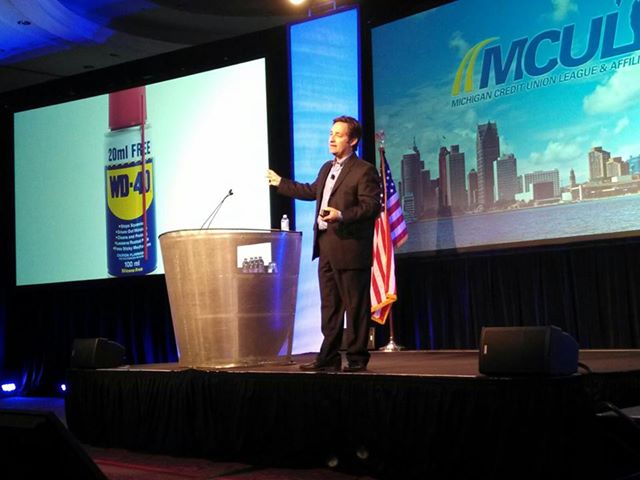 Josh Linker speaks about fostering creativity on the job.
On Friday, entrepreneur Josh Linkner encouraged credit union leaders to embrace new ideas rather than stifle creativity.
Linkner pointed to a study that shows that 98% of kindergartners view themselves as creative. But by the time those youngsters are high school seniors, only 2% view themselves as creative.
"The anecdote is to celebrate new ideas, not punish them," Linkner said.
Fresh thinking should be encouraged, he said, even if it leads to mistakes.
"Mistakes are not failure. Mistakes are the portals to discovery," Linkner said.
One attendee leaving Linkner's speech said she was so inspired by Linkner's speech that she started working on how she could use his ideas for her next training session – while Linkner was still speaking.
Another said he wanted his CEO to see a video of the speech to encourage her to try some out-of-the-box ideas, such as putting a coffee shop inside a branch.
The videos of the keynote speakers will be available soon.
During his presentation, MCUL & Affiliates CEO David Adams introduced Unite for Good, a collaborative effort between CUNA and the leagues to showcase the good things credit unions do for members and their communities.
He also called on credit unions to build on their position as trusted community partners by removing barriers, grassroots involvement and increasing awareness of the credit union brand.
"You're probably already doing most of this," he said.
Adams announced that for the third year in a row, MCUL would rebate 50% of its dues. He asked credit unions that are not currently taking part in the CU Link cooperative advertising program to consider putting that money toward the league advertising campaign.