Registration Open for the 2013 Hike the Hill (Misc News: April 30, 2013)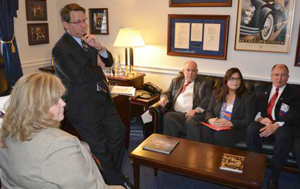 U.S. Gary Peters, D-Bloomfield Hills, listens to credit union leaders in his Washington office.
MCUL & Affiliates has scheduled its 13th Annual Hike the Hill grassroots lobbying trip to Washington for June 4-5. Participation in this year's Hike the Hill more important than ever, with Congress raising comprehensive tax reform this spring.
It is critical for credit unions to educate lawmakers on the credit union difference and structure, and the reason for and value associated with the credit union tax exemption. MCUL will continue to focus on important issues, including regulatory burden, member business lending, supplemental capital, privacy notice elimination and examination fairness.
Hike the Hill provides a great, low-cost opportunity to make an impact on federal legislative and regulatory policymakers during meetings and hill visits. Credit union officials will also have the opportunity to attend a networking luncheon with NCUA Chair Debbie Matz.
Hotel rooms have been blocked for attendees at the Embassy Suites in Washington and reservations can be made until May 11. Click here to find more detailed information, a tentative agenda, registration, flight, and hotel information. You can also click here to apply for the "Michele Myrick CURE Defense Fund Scholarship" which provides scholarships to help defray the cost of travel and attendance for the event.