Jean Chatzky's 'Money Rules' Book is a Powerful Outreach Tool; MCUF CRI Mini-Grants Available (Misc News: March 13, 2013)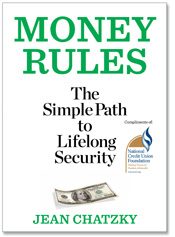 Through a special initiative of the National CU Foundation, Jean Chatzky's book "Money Rules: The Simple Path to Lifelong Security" is available to credit union organizations. This short book, containing 94 simple and memorable rules, is an effective tool that credit unions can distribute to help their community members ease financial stress and enjoy financial security.
To assist credit unions in utilizing this book in financial education outreach activities, the Michigan CU Foundation has 2,000 copies available which will be distributed through MCUF Community Reinvestment Initiative Mini-Grants.
Credit unions may apply for a MCUF CRI Mini-Grant to obtain up to 500 copies of the book to be distributed to a targeted group. Grantees are required to submit a plan summarizing how they will utilize the books as a part of a specific identified outreach project. This outreach may involve providing supplemental activities and/or the distribution and use of the book to a targeted audience with identified goals. "Money Rules" books are available under this mini-grant for a donation of $1 per book to the MCUF.
According the NCUF website, "Money Rules" is a powerfully simple, must-have manifesto on money with more than 90 wealth-building rules from the Today Show's finance guru. In a time of great financial uncertainty, this is the book everyone must read. The bottom line message in the book is that money is simple — people make it complicated. Now, bestselling personal finance author Jean Chatzky has distilled this simplicity into a smart, immediate, and entertaining set of rules that will change readers' financial lives. Written in her trademark warm, witty voice, and with a special dos and don'ts section, this is the only book readers really need to achieve true financial health and happiness.
To preview the book and see Jean Chatzky discuss it on the Today Show, see the NCUF website. Credit union organizations that do not wish to obtain a MCUF CRI Mini Grant may order the book directly from the NCUF for a donation of $3 per copy.
Outreach projects can be very simple or a part of a larger credit union project. Some ideas for possible outreach projects are:
Weave concepts from the book into your credit union financial education seminars or workshops or use the book as the main topic of the presentation.
Hold an in-person or virtual "book club" style reading and discussion activity with your members, your employees, with community groups or in partnership with local libraries.
Partner with schools to utilize the book in activities in classrooms or with school groups/clubs.
Partner with community groups or service organizations to distribute and utilize the book with targeted groups (scouts or other teen groups, marriage or family preparation groups, unemployment support groups, community service recipients, etc.)
Supplement the book distribution with budgeting and money management tools/software to a targeted group.
Feature rules from the book on your website or social media and engage book recipients by asking them to provide input or comments.
Provide books to members receiving financial counseling or investment planning services.
Use the books to engage a targeted group such as graduating high school or college students, new members, members purchasing their first car or house, etc.
Provide a copy to everyone who participates in one of your community outreach projects to show your appreciation.
Partner with local TV/radio/newspaper to distribute books in a way that encourages engagement by recipients.
Click here to apply for a MCUF CRI Mini-Grant. Fueled by donations from credit unions, chapters and business supporters, the MCUF provides support for Michigan credit unions to participate in educational and leadership development opportunities and community reinvestment initiatives. MCUF recognizes and promotes credit union leadership and community involvement. For more information, to apply for a scholarship or grant or to make a donation, see the MCUF website.